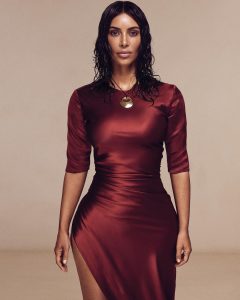 ICYMI Kim Kardashian-West is adding to her busy schedule a law qualification and is producing a two-hour documentary on criminal justice. 
Guys, can you bet your money on the legal expertise on Kim Kardashian? Well, there's more to this beauty than meets the eye. According to a press release, one of the most famous people in the world will executive produce the Oxygen documentary called Kim Kardashian: The Justice Project, which, it says, aims to capture her, "efforts to secure freedom for Americans who she believes have been wronged by the justice system."
The documentary will also show "exclusive, never before seen look inside her mission to tackle one of America's most controversial subjects." For months Kardashian has made headlines for helping people who have been unfairly sentenced and for fighting the death penalty in Califonia. In one of her Instagram posts she said, "For the last year, I have immersed myself in learning about the criminal justice system. I visited prisons, met with formerly incarcerated people, and helped with cases of individual injustice – including two death penalty cases. I have met with and am very supportive of Governor Newsom and his decision to help bring an end to the California Death Penalty. Racial bias and unfairness run deep throughout the justice system but especially when it comes to the death penalty. And we should not be okay with the risk that an innocent person could be executed."
The mother, wife, businesswoman and soon-to-be lawyer registered with the California State Bar to study law. She said, "For the next 4 years, a minimum of 18 hours a week is required, I will take written and multiple choice tests monthly. As my first year is almost coming to an end I am preparing for the baby bar, a mini version of the bar, which is required when studying law this way."
https://www.instagram.com/p/BvGKV0rn9R_/?utm_source=ig_embed
She also rubbished claims that her privileges or wealth that got her where she currently is pertaining to her studies and adds, "I want people to understand that there is nothing that should limit your pursuit of your dreams and the accomplishment of new goals. You can create your own lanes, just as I am. The state bar doesn't care who you are. This option is available to anyone who's state allows it.
https://www.instagram.com/p/BwSBRu5nmST/?utm_source=ig_embed
Celebrities from Winnie Harlow to our own Boity applauded her for her commitment to fulfilling her dreams.