From creamy samp to dunked chicken wings, your family will enjoy these three finger-licking recipes made with love by Chef Nono Mtshali and you
Treat your loved ones with these three mouth-watering recipe ideas: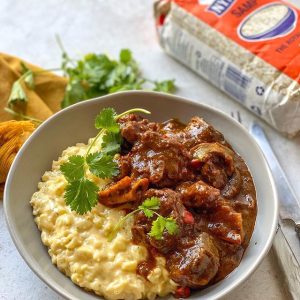 Creamy samp with lamb curry
Ingredients:
2 cups @nyala.za samp
1 cup fresh cream
1 tsp parsley
2 tbsp butter
2 cups cheese
1 cup powdered milk
Salt & pepper, to taste
Method
Rince samp and boil it until soft.
Drain it, put it back on the stove on low heat and add butter, powdered milk, parsley, salt and pepper, fresh cream, and cheese. Stir until cheese has melted and the samp is creamy. Serve!
Lamb curry
1 medium onion
20ml cooking oil
2 garlic cloves, minced
20ml curry powder
15ml ground cumin
15 ml paprika
15 ml ground coriander
1 tbsp curry paste
500 g lamb pieces
Salt & pepper, to taste
3 cups stock
1 cup canned tomatoes
Method:
Heat oil on medium heat and sauté onion and garlic until soft. Add curry powder, paprika, coriander and cumin. Cook until spices are fragrant. Now add curry paste and stir. Add lamb pieces and seasoning, stir and cook for 5 minutes. Add lamb stock. Close lid and cook for 40 minutes or until meat is cooked through. Add canned tomatoes, stir and adjust seasoning if needed. Cook for a few more minutes. Serve.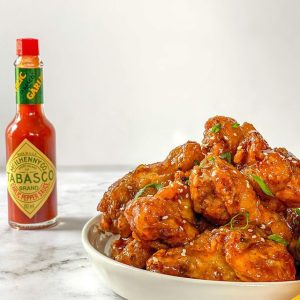 Dunked Wings
Ingredients
Cooking oil for frying
3 cups four
3 cups bread crumbs
Salt & pepper
20 chicken winglets/drummettes rinsed.
4 eggs, whisked
To Make the Sauce
1 cup boiling water
1 tbsp brown sugar
1 very small onion, grated
1 tbsp olive oil
2 cups sweet chilli sauce
1/2 cup thick soy sauce
2 tbsp @tabascosa sauce
Method
Mix the flour with breadcrumbs and salt & pepper. Dip the wings in the egg and coat with the flour mixture. Deep fry wings in the hot oil until the exterior is golden brown and crispy and they are cooked through. Once the wings are ready, transfer them to a plate with a paper towel to remove excess oil. Meanwhile, fry the onion in oil and then add all other sauce ingredients in the frying pan. Bring to the boil and then simmer until slightly thickened. Add the chicken wings to the sauce, toss until coated. Serve.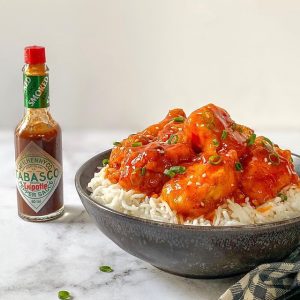 Firecracker chicken
Ingredients
800g boneless skinless chicken breasts cut into pieces
Salt and pepper to taste
1 cup cornflour
2 eggs beaten
3 tbsp cooking oil
@tabascosa Chipotle sauce, to your liking
1/2 cup brown sugar
1 tbsp rice vinegar
1 tsp red pepper flakes (or more)
cooking spray
Method
Preheat the oven to 180°C. Coat a baking pan with cooking spray. Season chicken with salt and pepper to taste. Sprinkle the cornflour over the chicken and toss to coat evenly. Dip chicken into the beaten eggs. Heat the oil over high heat in a large pan and cook chicken for 3-4 minutes on each side or until golden brown. Transfer cooked chicken pieces to a baking pan. In a small bowl, whisk together the @tabascosa sauce, brown sugar, rice vinegar and red pepper flakes. Pour the sauce over the chicken. Bake for 35 minutes, stirring once halfway through to coat the chicken with the sauce. Top with green onions and sesame seeds and serve!
What recipe do you enjoy making? Share in the comments below.
Connect with chef Nono on:
Facebook: Facebook.com
Instagram:  Instagram
Be sure to get her new cookbook, order it from her social media account.