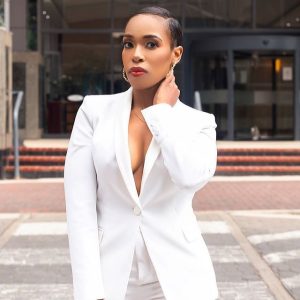 With passion and luxury retail experience to her résumé, Mathapelo Pitse is slowly making her mark in the shoe industry. She tells us more about her shoe brand
Take us back to your childhood, what were your career aspirations?
Growing up, I've always had an entrepreneurial passion. I was not fortunate to further my studies after high school, but I was blessed to have the skills and mindset of working twice as hard to be the entrepreneur I am today.
Share with us some of the career roles that shaped you into a businesswoman?
I have thirteen years' experience in luxury corporate retail and gained skills in sales, business development, business expansion and customer relations. I also owned a catering business, which I later sold to a friend of mine. These key aspects and experiences were essential in the founding and management of my brand.
How was the transition from having a job and to starting and owning a business?
The end goal was to always be proactive from working 9-5 to owning my own business. I didn't really have a tough time transitioning into business because I've always had the passion and drive of being a business owner. Entrepreneurship needs time, hard work and dedication, and to always have room for disappointments and improvements.
What were some of the challenges and highlights you have experienced?
Just like many businesses out there, funding my business was a challenge, especially without tertiary education. I had to rely on my passion and creativity to sell the vision to the masses no matter how small it was. Another challenge was the unexpected pandemic as well as converting our social media followers to buyers; however, we came up with different strategies to bounce back leading to one of our many highlights of being consistent on social media.
Tell us the meaning behind your brand name, J'adore D'amour, why did you choose the luxury space and why shoes specifically?
J'ADORE D'AMOUR means 'I love LOVE' in French and it truly defines the romantic feel of the brand. Everything that I do represents who I am so I make sure that I leave a sparkle of love at all times. My love for shoes sparked at a very early stage and I've always gravitated to heels, besides that, they are more fun to design. I can represent my style artistically and they bring out the feminine and stylish side of me.
How have the different levels of lockdown affected your business and how have you sustained your business since?
Covid-19 came at an unexpected time and a lot of businesses were affected and many lost their jobs in the process. In the beginning, the business was very slow but we decided to come up with different strategies and restructure our long- and short-term goals. As an exclusive and luxury brand, we're known as a digital e-commerce platform and don't have our physical store just as yet, so the strategy was centred on social media and being consistent throughout all our platforms. We're also presented with the opportunity of showcasing our Iconic Collection at the AFI concept store-House Of Nala and Africa Rise, which is owned by local designer Thula Sindi.
How big is your team and describe your management style
My team is an all-girl group that comes from different backgrounds and ages. There are eight of us in total and they all head their own departments. I allow everyone to take charge of their workflow and we're doing well. We have weekly meetings and communicate almost every day to make sure that things run smoothly. We're like a family and really get along with each other.
Do you have a mentor? Why and what important role do you think mentors have on the success of career and businesswomen?
I do have business mentors and they have been my go-to troops during each phase I go through. Business is not easy, it's a rollercoaster ride and I'm glad my mentors have shaped my level of entrepreneurship and also instilled a lot of valuable skills, especially within the decision-making process.
Do You Need A Mentor To Succeed? We Answer What Mentorship Is Not
Tell us about your busiest days and what are your plans when business is not doing well?
Every day is a busy day for us, we don't rest at all. From admin, social media, design and PR, we always have our hands tied. Business is not for the faint-hearted, and what we have learned as a brand is to remain positive throughout all trying times. I'm very optimistic and strong-willed so I have no choice but to work and strive harder for my brand.
What is your definition of success and do you feel you have achieved it?
How I would define success is making sure that I produce and deliver quality products for my clients. Achieving every good outcome of a product, review, exposure and fully operating a business measures success to me. It shows that we're heading in the right direction and encourages us to push harder.
I love your #1MILLIONSCHOOLSHOES initiative that aims to give underprivileged learners school shoes with every sale of your shoes. How many school shoes have you donated so far from this project?
Thank you, we are a brand with a greater course beyond just making and selling luxury footwear and we strongly believe that no child should go to school barefooted. We're excited about what's in the pipeline for the remainder of the year and we're currently planning on visiting a few schools in the upcoming weeks to play our part in giving back to our community
If you could host three women, locally or internationally, for dinner who would they be and why?
That's a very tough one because I'm inspired by so many women that play a vital role in my life. Top of mind would be Dr Precious Motsepe, Olga Bothongo and Anna Wintour. I would also give my seat to Jack Ma (I know he is not a woman) but I would love to have an all-round conversation with him.
Lastly, what are your success tips for young people who want to start their own businesses, especially in the era of lockdowns and constant load shedding?
You must always have the passion and drive to chase your dreams. A lot has happened in a very short space and we've been faced with overwhelming experiences. Like I always say, everything starts with an idea and the rest will follow. All you have to do is remain consistent and you will reach your end goals.
For more information and to buy her collection, visit www.jadoredamour.com