If you are looking for a warm, hearty and delicious recipe to try for your family this week, why not try these meals suggested by Chef Nono?
Our favourite chef, Nono Mtshali has created another list of mouth-watering recipes for you to try.
PAN-FRIED PORK CHOPS
INGREDIENTS
* 4 pork chops
* salt (to taste)
* black pepper (to taste)
* A pinch of powdered onion
* 2 tbsp cooking oil
METHOD
* To a pan, add just enough oil to fully cover the bottom of the pan. Heat over medium-high heat until it's hot enough to sear meat. * Season the pork chops with salt, pepper and onion powder. Sear each chop on one side for about 3-4 minutes, until it's deep golden brown. Flip and continue frying for another 3-4 minutes. * Let the chops rest for 3 minutes then serve.
FETA AND VEGGIE COUSCOUS SALAD
INGREDIENTS
1½ cups water, boiling
1½ cups couscous
½ cup mixed veggies, cooked
150 g feta, crumbled
METHOD
* Place couscous in a bowl, pour over boiling water and stir briefly.
* Cover bowl and set aside for 10 minutes for couscous to steam and soften.
* Fluff up the couscous with a fork and set aside to cool completely.
* Add veggies & feta and toss well to combine.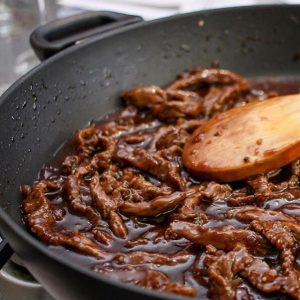 LAMB IN HONEY-SOY SAUCE
INGREDIENTS
SAUCE
* 1/4 cup soy sauce
* 4 tbsp honey
* 2 tbsp hoisin sauce
* 1/4 cup lemon juice
* 4 tbsp water
* salt and black pepper, to taste
STIR FRY
* 2 tbsp cooking oil * 1 garlic clove, finely minced
* 1/2 onion, chopped * 500g thinly sliced lamb strips
METHOD
* Mix the Sauce ingredients in a bowl. * Heat the oil in a pan over high heat until it is smoking.
* Add the onion and garlic and cook for 1 minute or until the onion becomes translucent. Keep it moving so the garlic doesn't burn.
* Add the lamb and stir fry for 1 minute until just cooked to your liking, then turn the heat down to medium high, pour in Sauce – Let it cook for 1 minute or so until it becomes syrupy. * Serve with rice.
LAMB CHOPS
INGREDIENTS
* 1 kg lamb chops
* 1 tbsp pepper steak spice
* 1 tbsp fresh thyme, chopped
* 1/4 tsp rosemary, finely chopped
* 1 cup sweet & sour sauce (or sweet chilli)
* 2 tbsp lemon juice
* 1 tbsp olive oil
METHOD
* Combine thyme, rosemary and seasoning
and rub on lamb chops.
* Pan fry on low-medium heat until lamb has cooked.
* Add the lemon juice and sauce, baste chops
and cook for a further minute.
These can be enjoyed with creamy pasta or mashed potatoes or as a side dish.
Connect with chef Nono on:
Facebook: Facebook.com
Instagram:  Instagram
Be sure to get her new cookbook, order it from her social media account.