22-year-old actress and singer Zendaya is announced as new brand's 2019 spring collection ambassador and co-designer after model Gigi Hadid
Zendaya will not only star in the brand's Spring 2019 global campaign but she will design a collaborative collection with globally renowned fashion designer Tommy Hilfiger. The capsule collection, named Tommy x Zendaya, will be released for the Spring 2019 season.
Tommy Hilfiger said in a statement from the brand, "I love to collaborate with people who are passionate about making their dreams a reality and who inspire the next generation to do the same. Zendaya has become a global icon, using fashion to make bold statements while always staying true to herself. Our capsule collection will fuse her eclectic style with the Americana spirit of our brand."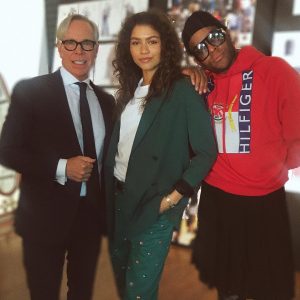 Tommy Hilfiger also collaborated with Gigi Hadid on a two-year design partnership, which was showcased on runways in New York, Los Angeles, London, and Milan and worked with Lewis Hamilton for the men's ambassador and also showcased on the runway in Shanghai for Autumn 2018.
In the brand's statement, Zendaya said, "Fashion is more than just wearing cool clothes. It's a way to celebrate self-expression and individuality, which is extremely empowering. This is why I am proud to partner with Tommy Hilfiger,". We just can't wait to for the collection to hit South African stores.
Source: Harper's Bazaar
Image source: Instagram