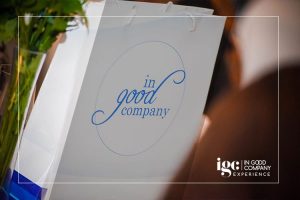 Following the successful inaugural In Good Company Experience in 2018, this year ladies in business are in for a treat with the business festival confirmed for 24 August 2019 at Steyn City.
According to In Good Company's founder and CEO, Jabulile Gwala there has been a growth of women empowerment events over the years which is imperative, because it is incumbent on women to claim this space to tackle the Gender Diversity and Inclusivity global crisis hands on.
"We have come to master the art of real talk & inspiring each other. Last year's debut event has taught us a lot about what we need as women in business. The stagnant format of speaker after speaker becomes monotonous and many people appreciate the talks, but is that enough? We decided to use the lessons and respond to the feedback we received. We have placed much focus around creating a space for business connections. We want to connect patrons with female leaders in their respective industries who will share actionable insights with them. We want the event to be a melting pot of great ideas, powerful conversations and fantastic opportunities. It must be enjoyable but also worth the time away from family and business," says Gwala.
In Good Company has partnered with Steyn City to elevate this year's women empowerment experience. "We have launched a BUSINESS CONNECTING TOOL that will match powerhouses and aspiring women in business with each other, ensuring there is complete value in the time spent at the event. Getting together and just listening to other great women without access to connect on a one-on-one basis with role models or businesswomen who inspire patrons is no longer enough. We have experienced how difficult women find it to network and make meaningful connections, and this tool affords us the opportunity to be a facilitator in making networking easy for women," states Gwala.
The Business Connecting Tool is aimed at connecting top women and aspiring women across different industry sectors in one to one meetings to be held at the event to secure a 15 minute session with a mentor. Aspirants will require a valid ticket to the business festival and will need to register. These sessions will commence with an ice breaker guidance to allow mentor and mentee to connect easily.
Gwala places emphasis on the need to network, "Although the event will attract top speakers, the need to network is a high priority for the participants attending. This event attracts women from corporate, entrepreneurship, women empowerment and media within multi-sectors; and the matchmaking of individuals to search, target, meet, connect and do business is critical in growing women in business.
Attendees will be spoilt for choice, instead of sitting in a conference they can schedule their slots for this intimate exclusive opportunity, and we believe this will be a great way of building South African women in business. We encourage our potential patrons to keep close to our website for the release of the list of business powerhouses participating in the matchmaking program"
1. Once registered to attend the event all confirmed registrations will be profiled into the Steyn City Business Matchmaking Program receiving login details to access the online Business Matchmaking tool.
2.  Within your individual account, you can search, view and target woman that you would like to meet, sending a value proposition for the meeting request
3.  Our highly customer service orientated Steyn City Business Matchmaking team will also call you, ensure you have the meetings you require and follow up on pending meetings for you
4.  Our team will also be onsite to ensure meetings are taking place, follow up on no shows and assist with ad hoc onsite meeting requests
The festival promises a day full of powerful conversations, business speed dating, meet and greets, music and dance, business masterclasses, food, fashion & beauty and a lot more. It will be hosted by Lynette Ntuli, with Unathi Nkayi and Jabulile Gwala mc'ing. Among the esteemed speakers will be McCain Commercial Director – Nadia Mohamed, Nelson Makamo – Global Artist, Tammy Menton – head of marketing at Steyn City and Zinhle Jiyane – DJ and businesswoman. The full line-up will be announced at a press briefing scheduled for early August.
To get the most out of this free and powerful Steyn City Business Matchmaking Program – purchase your tickets as early as possible. The success of your meetings depends on your early bird registration. Tickets are available at quicket.co.za: early birds can obtain theirs for R890 – normal tickets are sold for R1,250 which includes welcome drinks and meals.
For further information please visit www.ingoodco.co.za
Join the conversations:
Twitter – @ingoodcompanyza
Facebook – @ingoodcompanyza
Instagram – in_good_companyza