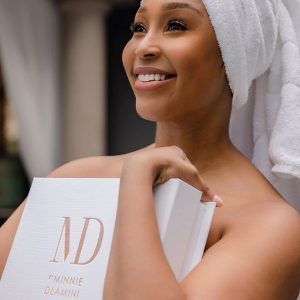 Our favourite media personality and businesswoman, Minnie Dlamini took time from her busy schedule to chat to us about her new skincare collection, MD by Minnie Dlamini 
It's hard to believe that only nine years ago, the nation was introduced to Minnie Dlamini Jones when she auditioned for an entertainment show, Live Amp. Today, the media personality and businesswoman is slaying her dreams in remarkable ways. Known as a TV personality and a model, her status as an icon was solidified when she became the first South African to reach 1 million Instagram followers, and it's clear that this is just the beginning for this star, who recently celebrated her 29th birthday. She took time from her very hectic schedule to tell us more about her skincare range:
Tell us about your new skincare range, MD by Minnie Dlamini what inspired the idea?
It's always been my mission to celebrate beauty and confidence with a product that provides smooth, radiant and healthy skin with a lasting glow – no matter your skin shade or type. I recall growing up mixing oils into my lotions to boost their benefits on my skin. From then on, I knew I wanted to create something that doesn't require one to mix anything to their products and that is what MD by Minnie Dlamini is promising!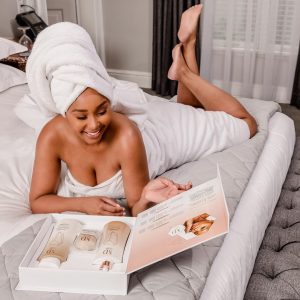 Tell us about the journey to creating your products and what do they contain?
I decided to collaborate with a South African laboratory to bring women MD by Minnie Dlamini and make it a proudly South African brand. It took me four years of research and development to give women the glow they deserve – at prices that won't break the bank. I really wanted every woman from every corner of the country to afford this product because I believe every woman deserves to feel beautiful by having a product that results in smooth, radiant and healthy skin with a lasting glow – no matter your skin shade or type.
. The product range comes in three variants – Cocoa Crystal, Rose Quartz and Tropical Topaz:
Cocoa Crystal specifically formulated for very dry skin, leaves skin feeling smooth.
Rose Quartz formulated with rose water, hydrates the skin and restores suppleness.
Tropical Topaz a delectably fruity fragrance, light on the skin and perfect for the summer.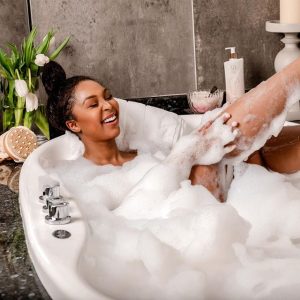 Wow, it's amazing that you created something easily available for every woman, which I really admire. And your success tips to young people?
Follow your dreams and believe in them, no matter how doubtful and discouraging others can be. Whatever you do never give up on yourself.
MD by Minnie Dlamini is currently available at Clicks stores and retail between R15.00 and R39.00
For more information follow MDSkin on
and Facebook