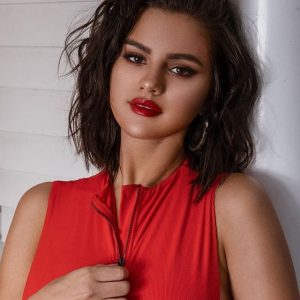 The most followed person on Instagram has added to her impressive busy schedule swim-wear designer as she teams up with Theresa Marie Mingus to create a  new swimwear line, Krahs. 
26-year-old global sensation has gone through a lot. Not only does the singer battle with a chronic autoimmune disease called lupus but she also had a kidney transplant in 2017. Gomez was inspired by her experience to design a high-waisted swimsuit, with a belt to cover her kidney transplant scars. She designed the new swimwear with a brand started by her close friend Theresa Mingus, who is obsessed with sharks. Last week she posted a video on Instagram, that had a whopping 6 million + views, which saw her chat with Theresa about the inspiration behind the swim-wear brand. She also mentioned, "I've had a kidney transplant and I like bathing suits that kinda cover where that's been and make me feel comfortable."' Her designs include high-waisted bikini bottoms and full-coverage one-piece.
She also celebrated her friend in one of her videos saying, "I met Theresa 5 years ago. We worked together and became best friends. She has taught me how to see life in a fun, carefree and uplifting way. She has shown me how to be a strong and fearless woman. She is beautiful, kind and smart. I saw how capable she was of achieving her dreams. I wanted nothing more than to see her pursue them and soar.  And here you are making it happen T. I love you and I am so proud of you."
Theresa also posted on Krahs's Instagram posts, "Working with Selena was a dream come true! Her dedication has always inspired me and working with her to design her suit was no exception.", "Selena and I want Krahs to be for everyone and everybody! We couldn't be more proud of what we've created."
I don't know about you but I am missing summer already!