29-year-old radio personality, Sabelo Mtshali is rising to domination in the airwaves, especially with the release of his first single, titled Theowa featuring Manu Worldstar x Gigi Lamayne. We catch up with him
Two years ago, YFM presenter, Sabelo Mtshali, also known as DJ Sabby, had a chat with KDanielles Media about his passion for radio and his business ventures. Today, it seems the star in the making, who will be hosting his Best Drive show in London this week, is showing no signs of slowing down. We chat to the busy man about his journey so far.
READ MORE: http://kdaniellesmedia.com/2017/09/25/journey-success-dj-sabby/
You have made a name for yourself as a radio presenter and entrepreneur, why did you want to branch into music?
– I've always been a fan of music and being on radio is amazing as I'm literally rocking some of the freshest cuts every day. The whole idea of creating your own mood and energy with artists you envision has always been fascinating to me and after making my first single, I knew this is something I wanna do more of.
Who, in the music industry, influenced your love for music and even the decision to make music?
– I wouldn't pin down one name with regards to inspiration but as a DJ, I can't ignore what DJ Khaled has been able to create for himself. Consistency and consistently being in the forefront of culture and curating future urban sounds is definitely something I love about Khaled.
What kind of genre will you focus on in your music and why?
– I'm a big Hip Hop, R&B, and Afrobeat fan and most of the music I will be composing will be around those genres.
Who will best relate to your music and when can we expect an album?
– I'm making music for the young urban consumer. Sounds that radio will love and DJs will blaze in clubs across the world. It's music that will uplift your mood and have you smiling upon hearing it. Be it making you realize that you worth more than you think or you can become a greater version of yourself, to epic moments that need a record to be the soundtrack of that moment. I want you to think of my music as a mood!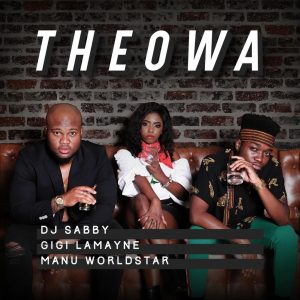 Tell us about Theowa, what is the inspiration behind the song and why did you want to collaborate with Gigi Lamayne and Mau World Star?
– I have always been a fan of Gigi and our paths have crossed several times. We have spoken about making music and our synergy has always been lit when we connect and making music just made sense. Manu caught my attention from Nalingi because the entire record was just so different. We connected once and our paths kept connecting, the music conversation came up and we followed it up and now he is on Theowa.
– Theowa is a proudly authentic African sound that encapsulates hip hop and Afrobeat. The song translates all those elements of both genres I love so much right now and S/O to eternal Africa for getting the combos to communicate on production.
Now, at this point in your career and journey how would you define success?
– funny enough we were having this conversation on my mean ass drive show the other day lol. For me success is being happy and having options. Sometimes we take for granted how some people don't have options, what's presented is their reality. Being able to wake up in the morning and pick up what cereal you will eat to something as epic as what car I will drive today is a success. Comparing success to what someone else is living and trying to emulate that as your definition is not success. You have to be happy first to enjoy success if it's monetary driven.
Where do you see yourself five years from now in the music space?
– In the next 5 years, I'd like to have my feet firm in the game as a content curator. This is in a form of visual content as I'm so passionate about it. Id like to be doing radio at a radio station that's possibly in the European market or anywhere across the world. A new audience in a different country is a definite experience I long for. Hopefully I will have one album out in the next 5 years as I still have a mixtape and EP to drop. I'm still going to be the best father to my son and I'm open to more challenges that shall yield a new direction.
How do you balance your family life and your work life?
For me it's all about priorities. Give it aspect the amount of time it needs and everything falls into place. Can't be doing 100 things at the same time because the tasks can be completed but the execution and impact won't be strong. You want to leave memories and create memories with family. Those memories are created by spending time together and connecting. Work requires attention, ideas, money and epic execution. Should the execution be amazing and the impact solid, that is most likely to bring more business. Key thing is to prioritize your time
Who would you like to collaborate more with and what are your plans for 2019?
– with regards to collaborations, I'm energy driven. I like working with people who I vibe with because the sessions don't feel forced. I love working with people who are just as invested in the concept and end product. Those are the songs that are easy to promo because the artist wants it to work as much as I do.
What are your success tip to young people?
– be patient. Work hard, be consistent and never compare your story to anyone. Just as our fingerprints, we all different and so will our hustle and success stories. Keep working and trust in the process.