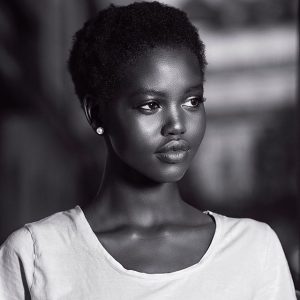 The South Sudanese first dark-skinned model with Afrocentric features to walk for the Chanel brand since Alek Wek is a current sought-after favourite in the fashion industry
Now, why are we introducing this model to you? You may ask. Not only is this young model one to look out for, but she's currently gracing the December 2018 cover of British Vogue magazine but she was up against Bella Hadid, Kaia Gerber and Winnie Harlow for the model of the year award at the 2018 Fashion Awards. She took the news to Instagram and said, "Waking up to the best news ever, I've been nominated for Model Of The Year for the @britishfashioncouncil. I'm so humbled, grateful and proud of this nomination. Never in a million year did I ever see this coming my way. This year has without a doubt been the best year of my career and throughout working my ass off the thought of being nominated or even getting Model Of The Year never crossed my mind. I would like the thank all my family, close friends, and fans for continuous support. Once again a big thanks to all my agents who have worked so hard for me and with me this year. But most importantly a huge thank you to all the designers, photographers, stylists, makeup artists, hairstylist and magazines who have worked with me to create the most beautiful images and memorable moments I'm going to cherish for the rest of my life. All that I have achieved this year wouldn't have been possible without any mentioned above. Congratulations to all the other models nominated and good luck to each and every one of you."
https://www.instagram.com/p/BpR5gXMgBOy/
So who is Akech?
She was born in South Sudan, raised in Kenya and moved to Adelaide, Australia, with her mother and five siblings as refugees at the age of six.
Her modeling career
Akech made a low-key runway debut in a local fashion show put together by her boutique-owning aunt at the age of 12, but despite being scouted many times during her early teenage years it wasn't until she turned 16 that she signed to an agency – Chadwick Models – in Sydney. She went on to do Melbourne Fashion Week where she received a call from her agent confirming her for the Saint Laurent SS17 show in Paris where she was then signed by Elite Model Management. Since then the 18-year-old has walked runways for Alexander McQueen, Givenchy, Prada, Loewe, Miu Miu, Tom Ford, Calvin Klein, JW Anderson, Burberry, Simone Rocha, and Versace. She featured in the 2018 Pirelli Calendar, landed her first-ever Vogue cover for the British magazine's 'New Frontiers' issue in May this year and featured in covers of other renowned fashion magazines.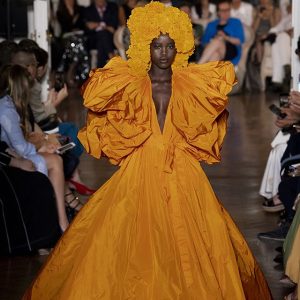 It's been two years since the young model worked with big brands and rubbed shoulders with fashion giants. The future couldn't look brighter and exciting for this soon to be African modeling icon.
Source: http://www.glamourmagazine.co.uk