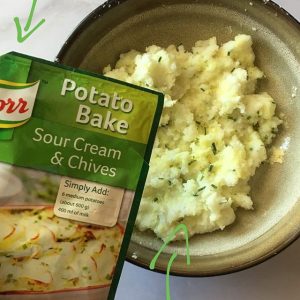 There are always creative ways to repurpose leftover meals. Here's how to make delicious pap croquettes this evening, thanks to the Lazy Makoti.
Businesswoman and author of a best-selling cookbook, Mogau Seshoene, also known as the Lazy Makoti confesses that she's the queen of leftovers. Instead of wasting food there are creative ways she suggests you can repurpose it. Since pap is the staple diet of Southern Africa, there are always leftovers, especially from the weekend, where the smell of braaied meat lingers in the summer air, in every corner of South Africa. It's funny how meat and salads never last but you always have a full pot of leftover pap that you don't know what to do with. Well, the Lazy Makoti has you covered with a great recipe idea that you can try this evening. How does, 'Sour cream and chives pap croquettes' sound?
Here's what you will need:
1/2 packet of Knorr sour cream and chives potato bake
2 cups of cooked pap
For the coating:
1/4 cup of cake flour
1 tablespoon of Knorr sour cream and chives potato bake
2 eggs, beaten
1/2 cup of breadcrumbs
Oil for deep frying
Method:
Warm your pap on a low heat and season with 1/2 of Knorr sour cream and chives potato bake.
Combine well, then, using your hands, shape into balls.
For the coating, mix the flour and the sour cream and chives potato bake. Roll the balls in the seasoned flour and shake off the excess.
Dip into the beaten eggs and then into breadcrumbs.
Heat enough oil for deep frying, on a medium-high heat. Fry the croquettes in patches (but don't overfill the pot).
Fry for 3-5 minutes, turning until golden brown.
Garnish with chopped chives and serve with chilli mayo.
What's great about this recipe is that it takes only 20 minutes to 2o minutes to make.
Have you gotten your hands on The Lazy Makoti's Guide to the Kitchen book? What's your favourite recipe?
Connect with The Lazy Makoti on:
Connect with Mogau on:
Instagram: https://www.instagram.com/thelazymakoti/?hl=en
Twitter: @thelazymakoti