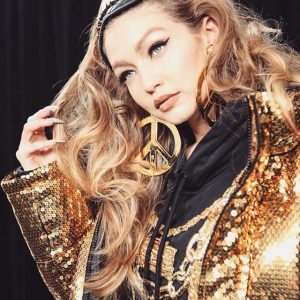 Gigi Hadid's response to people who question her rise to fame? "They've given me a life because of their hard work, and I work hard to honor that."
The 23-year-old is by far one of the most successful and famous models globally who has worked with big brands. Her sisters, Bella and Anwar are also models who are the children of real estate developer Mohamed Hadid and Yolanda Hadid, a former model and cast member of The Real Housewives of Beverly Hills. According to Gigi, just because she comes from a privileged upbringing doesn't mean she hasn't worked hard for her career achievements. During a Reebok event in Sydney on Friday, November 16, the supermodel confronted haters who attribute her fame solely to nepotism, The Daily Mail reports.
"People say that I don't deserve to be where I am because I come from this successful family, but my parents were f*cking hard-working," she said. "My dad was a refugee, my mum was on a farm, went to New York and worked to send money back to her family. They worked their asses off and they've given me a life because of their hard work, and I work hard to honor that."
Gigi added that she's encountered kids who use their wealth as an excuse not to develop a work ethic of their own, and she's not a fan. "I've worked with them," she explained. "They suck. So work hard and be nice."
This isn't the first time the eldest Hadid sister has publicly acknowledged her coexisting privilege and desire to work for what she's given.
"There are so many girls who come [from] all over the world and work their asses off and send money home to their families like my mother did, and I wanted to stand next to them backstage and for them to look at me and respect me and to know that it's never about me trying to overshadow or take their place," Gigi told Vogue Australia in a July 2018 interview.
Words: Tess Garcia
Source: teenvogue.com
Image: Instagram