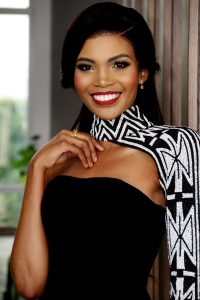 26-year-old Miss World South Africa, Thulisa Keyi reveals one of her pageant costumes and message to the youth as she prepares to compete for the Miss World title. 
Keyi, who hails from Mdantsane outside East London in the Eastern Cape, will be representing South Africa against contestants from 119 other countries in the competition, which is watched by millions of people worldwide.
Keyi will be competing against 119 contestants across the world at the 68th Miss World, which is taking place in Sanya, China on December 8 when Manushi Chhillar from India will crown her successor.
Keyi was crowned Miss World South Africa at the Miss South Africa pageant in May this year at Times Square in Pretoria. At the time of taking the title, Keyi was doing her articles at one of the big four audit firms and plans to become a chartered accountant. She is a B Comm Accounting and PGDA graduate from the University of Cape Town. Keyi, who had never entered a pageant before but was a professional model for five years while completing her university studies, chats to KDanielles Media ahead of her departure next week:
We are bidding you farewell today (01 November 2018) ahead of your Miss World pageant in China in December, how does it feel knowing that you are going to represent South Africa on a global stage, and what are you looking forward to?
It's exciting and surreal because not so long ago I was crowned Miss World South Africa. I am excited to go represent my country as authentically as I can. I am also honoured because this is an important year not only for SA but for the world because we are celebrating the Nelson Mandela centenary. I also look forward to enjoy the experience because it's a once in a lifetime opportunity. I will never be at Miss World again. I am looking forward to connect with, learn about the different cultures and make friends with the 119 girls that I will be with next month.
How do you plan to impact the world and SA, should you bring the Miss World title back home?
The Miss South Africa platform has given me a voice and platform to share my story, which I believe is powerful and global; and if it touches so many lives, I can only wonder how it can impact the world. Trauma is a big issue and couple that with education is something I take seriously and I believe is important around the world. I want to elevate my story on a global stage and say that I am willing to help where and however I can. I got to experience the work that the organisation does all over and it would be an honour to make a difference around the world.
READ MORE: Get To Know Your Miss World South Africa 2018, Thulisa Keyi
There are certain similarities between you and the late Nelson Mandela, you are from the same province (in the Eastern Cape), you are both Xhosa and you both value education, do think there's a special link between you and the late global icon? And how will you celebrate this at the Miss World stage?
That's a beautiful question because I've also felt that as well and want people to see how inspired I am by him. Of all these similarities, the one thing that connects me to him is the fact that he faced imprisonment for 27 years for the good of South Africans, and that alone can result in anger and animosity but instead, he chose to forgive. I learned the value of forgiveness from him at the age of seventeen when I witnessed a fourteen year old murdering my father. I had to learn to forgive for the bigger picture, the betterment, and inspiration of the youth. Hence I am going to schools and try to medically help students who are suffering from trauma because that results in social ills that we experience in South Africa.
What is your message to young people? 
I am from Mndansane, which is the second biggest township in South Africa. Like any community and township, there are challenges and circumstances that people go through and are born into. But these shouldn't determine what you can amount to. I made the decision to chase after my destiny. My message is make a choice to get out of any circumstance you find yourself in. And understand that it takes hard work to be where you want to be.
Connect with Thulisa Keyi on:
Instagram: @thulisa_keyi
Twitter: @Thulisa_Keyi
Photo credit: Instagram and Yolanda van der Stoep