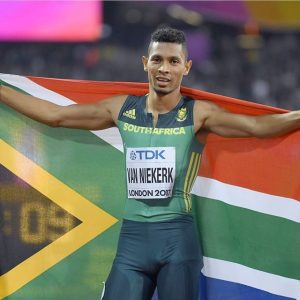 South African athlete and world champion, Wayde Van Niekerk shares with us where his love for sports began, becoming an eTV Openview ambassador and his success tips
It was a defining moment for South Africa when its gem, 25-year-old Wayde Van Niekerk broke the 400m world record, with a time of 43.03  at the Rio Olympics in 2016. Another proud moment was when he broke another World Record, this time, in the 300m in Ostrava, Czech Republic in 2017; beating Michael Johnson's previous mark of 30.85, set in Pretoria in 2000, by running 30.81. There's much keeping him busy and he has added to his CV, representing eTV's Openview as its ambassador.
What sparked your passion for sports?
I grew up in a family who were involved in lots of sport, so sport was always around and I loved every kind of sport growing up.
 Who did you look up to and who contributed to your love for sports?
I always looked up to my mom, who was also an athlete, and that contributed to my love for sport, especially athletics.
 What are some of the highlights in your career?
Winning the Olympic gold medal and setting the 400m world record in Rio in 2016 was a major highlight. Defending my world title in London last year was also a special moment for me.
The world and especially SA looks up to you as a sports champion. How do you handle the pressure?
There is always pressure, but I believe it's a good thing. I believe it's what keeps you going as a competitive athlete.
What else would you like to tick off your bucket list?
There is so much I would still like to achieve, but I'd keep you busy for a long time if I shared my entire list.
How would you define success and do you feel you have reached it?
Success is subjective, so it's about what's important to you as an individual and finding the will to achieve it. I would say I still have a lot to achieve.
 Why did you choose to be an eTV openview ambassador?
Television has the power to bring the entire world to our living rooms, which is so important for inspiring our dreams and celebrating who we are. Openview has such a wide variety of free channels that thrill, entertain and educate. I am excited to team up with them as they try to give free world-class entertainment to as many South Africans as possible – we're going for gold.
 What are your success tips to young people looking up to you?
I always say work hard and keep on dreaming!