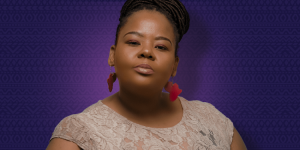 34-year-old comedian Noko Moswete has come a long way since launching her career in comedy four years ago, including being selected by The Daily Show presenter for his Trevor Noah Presents NationWild, exclusive to Showmax. She shares her journey and her success tips.
Congratulations again for being selected to be part of Trevor Noah's NationWild show, how did that experience feel?
Considering the fact that I didn't even think that Trevor Noah knew me since I officially started my comedy career in 2015 I never imagined I would be selected by him for this experience this soon. It really was an amazing surprise.
Take us a bit back to your childhood, how did you discover your passion for comedy?
Growing up in the village in Limpopo we didn't have electricity and the only entertainment we had was each other as a family. I always had my family in stitches all the time and the same applied when I went to boarding school. We had a few movies to watch at school once in a while but I always enjoyed watching sitcoms and aspired to be on television, and make people laugh. But stand up comedy felt like a right career choice for me because it would mean I could tell stories in my own voice.
You left a career in lecturing at a (further education and training (FET) college to pursue stand up comedy on a full-time basis, why the different career move? 
I wouldn't say it's a different career move because everything still links together. There are often lessons I give to my audience in this different form of teaching. I love teaching, and in my previous job my learners laughed a lot during my lessons but they passed well. It was also a full-time passion and financial decision because I was able to make the amount of money doing comedy that I earned in my teaching job. So it made sense to me.
Were there challenges you came across when you started out your career in comedy?
It wasn't really difficult launching my career on stage because people loved me from day one, at club Delcuze in Polokwane, where it all began. I was lucky enough to meet the right people who helped me with my journey. Everything happened fast (not like paraffin fire) but things worked out the way they did because I always put in my best foot forward.
Like most industries, comedy seems to be male-dominated, how has your experience been as a female comedian thus far?
I am not sure how to convince people that women can also be funny. It's not a gender issue but a matter of talent. A jaw-dropping incident would be when an MC would seem to prepare an audience that a female is about to come on stage. Do they think people won't notice? Also in a line-up, there are usually more males than females, which is quite sad.
READ MORE Tumi Morake's Debut Book, 'And Then Mama Said' Hits Shelves
I think a few women in South Africa like Tumi Morake have paved the way for female comedians, how are you planning to do the same for those considering this career?
I acknowledge these great women for the work they are doing and the example they are setting for others. They have inspired me and I hope me being where I am today can show other women that it's possible to make it in this industry.
What other goals do you aim to achieve?
Everything I want to do in the future will be comedy-related. I am a writer as well and I want to create a sitcom that will be aired to a wider audience. I am also touring a show called Single, Divorced and Never Married, which is about five women who share their love lives.
How would you define success?
Being able to achieve your goals and doing what you love in a manner that will make you sleep peacefully at night.
Who would you like to work with one day?
A phenomenal woman called Sommore Chandelier, who inspired my love for comedy, and of course Trevor Noah, again.
READ MORE Trevor Noah's Born A Crime Is Now a Curriculum in Schools In the USA
Who do you credit for your success?
I give credit to God. I credit him for giving me the faith, the talent and the opportunity to showcase my passion to others.
How would you describe yourself in four words?
Funny. Kind. Shy (although that's hard to believe). Loving.
What are your success tips to young people?
Firstly you have to accept that reaching your dreams won't be easy. It all depends on how bad you want something. This will determine how hard you are willing to work, how humble you are prepared to be and how much you are willing to prove your passion. I read somewhere that love equates to pruning. And when it comes to your dreams and what you love you will be ridiculed or sidelined. At first, only ten people will support what you have to offer, five of whom are your family, are you willing to carry on regardless?
Check out Noko on Trevor Noah Presents Nationwild, which features a short introductory set by Noah as the host and an interview with the featured comedian about their road to success, followed by the comedian's set.
Connect with Noko on:
Facebook: https://www.facebook.com/Muswede
Instagram: https://www.instagram.com/noko_most/
Twitter: https://twitter.com/noko_most?lang=en
Image soure: Showmax