Sinenhlanhla Ndlela is the 24-year-old face behind and founder of the delicious, guilt-free vegan ice cream, Yococo that has been making waves since 2016. She tells us what inspired her business and her success tips.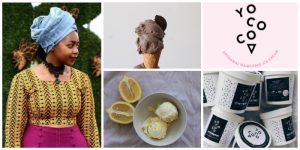 Give us a glimpse into your childhood, what were your career aspirations growing up?
I wanted to be a commercial lawyer, and then a choreographer, then I wanted to fly a plane, and in high school, I wanted to be a visual artist and then a photographer, that's why I decided to study TV writing and post-production. So my dreams changed with age. I guess not knowing people who were in the career fields I wanted kind of contributed to the career changes growing up.
Tell us about your vegan ice cream business, Yococo, what sparked the idea?
I moved to Johannesburg in 2015 after graduating from varsity. Since I always loved ice cream and started eliminating dairy and animal products in my diet because I wasn't feeling well that's where the vegan ice cream idea came. There was a gap in the market and I started making my own vegan ice cream.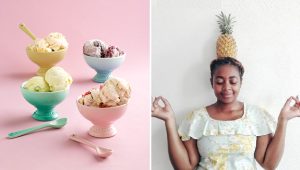 Take us through the process of making your ice creams
Well, there definitely was a lot of research, experimenting, and tasting that was involved when I started. I love ice cream so much and know what I want it to taste like, that guides me a lot as well.
Why the name, Yococo?
At first, I thought I would try making yoghurt because ice-cream was quite difficult to make. So the name was inspired by yoghurt and coconut.
What were some of the challenges of starting your business?
The first was that I didn't have a business background and doing a lot of research kind of delayed me from starting my business. The fact that everyone around me believed in me and the pressure of not having income, since I resigned from my job propelled me to start. Finding the right people to work with was another challenge, as well as getting out of my shell and being assertive.

How big is your team?
Right now I have two people in my team who help me at pop up markets. I am starting to train them on the administration and production side of things since I have been a one-man show since 2016 when I started the business.
What does success mean to you?
Success to me is always evolving and growing. It's not stagnant because when you reach your goals you have to dream bigger. So success for my business means growing and expanding to other countries, which is what I am working towards. I want my business to outlive me and for it to be a family business.
Are there fail-proof ways to grow a business and have you applied them to your brand?
I doubt there are fail-proof ways to doing things, especially in a business because it's too unpredictable. Sometimes you have to go with the flow and if things go wrong you have to take a step back and learn from your mistakes or failure.

Describe your busiest day
Busiest days are preparing for events because we usually do pop-ups and festivals and that can be hectic.
How do you keep your business afloat during winter?
This year was my first official winter in business, it went great because for people who love ice cream it doesn't matter what season they are in.
What are your success tips to young people to young poeple?
It's important for you to know your numbers because you can be running your business at a loss if you don't. It's important for you to take good care of yourself and take a break, because you are your business. Don't be too hard yourself and don't be afraid to fail because it's part of the journey.
Visit or oder your ice cream at   info@yococo.co.za or 061 457 9611
Images: Destinyconnect.com and yococo.com