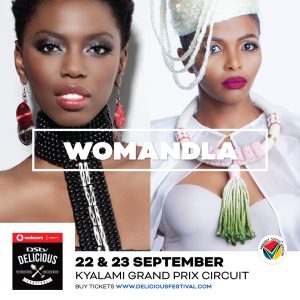 This spring, on 22-23 September 2018, the sixth DStv Delicious International Food, and Music Festival will celebrate the power of women with the Womandla stage line-up as its main stage offering.
The stage will feature an all-star set of powerful performances with leading women who've shaped South Africa's contemporary musical landscape. The elegant singer-songwriter Lira along with the cultural force of songs and Simphiwe Dana are set to perform.
These award-winning women have not only dominated our musical world but have stood up as shining examples of the creative power of women in the world. Together with these iconic acts, Vodacom presents DStv Delicious International Food and Music Festival will pay tribute to women in South Africa through music. This celebration of women and heritage will include tributes to key players in the trajectory of our country such as Mam' Winnie Mandela. Lira will bring her unique fusion of pop, soul, and R&B sound to the Mainstage. Simphiwe Dana who is known for her combination of Jazz, Afro-soul, and traditional music will bring her heart and soul to the Main Stage alongside her musical sisters.
READ MORE: Erykah Badu To Headline The DStv Delicious Food and Music Festival
Other stars set to headline the two-day fest at the Kyalami Grand Prix Circuit in Midrand on 22 and 23 September 2018 include the high priestess of neo-soul, Erykah Badu and New Zealand's rising icon multi-instrumentalist Jordan Rakei, who recently wowed local fans when he played his first-ever South African gig in Cape Town. The incredible experimental cross-genre outfit, Jazzanova Live, the British acid jazz band, D'Influence. More acts are set to be announced in due course.
READ MORE: My Journey To Success with Lira
Music and food lovers can be part of the experience with tickets starting at R650 each. The Early Bird period is NOW and DStv Delicious International Food and Music Festival pass go for a discounted amount of R550.
For more information visit www.deliciousfestival.com, sms 'Delicious' to 33592 (sms costs R1.50), or follow the official social media pages:
Facebook – DeliciousFestivalSA
Twitter – @DeliciousFestSA
Instagram – @dstvdeliciousfestival
Tickets range from R280 for Vodacom Kids Zone passes for children between the ages of 3-13, to R1 450 to access The Delicious Lounge in association with Tanqueray and Johnnie Walker. Please see more information on the ticket offerings below.
Delicious GA Passes start at R550, but you can get your Delicious Early Bird GA Pass for R550 today until the sale period ends! Visit  www.deliciousfestival.com to find out more out our ticket offerings
The Delicious Early Bird GA Pass
R550 per person per day
R1000 per person for a weekend pass (Saturday & Sunday)
Includes the following:
Access to festival grounds
Access to general public areas (general access standing area, lifestyle activations, DStv channel activations)
Access to general access bars. No persons under the age of 18 will be permitted into areas that serve alcoholic beverages
World-class entertainment with the best international and local acts on the Main Stage
Access to Delicious Mile: the esteemed Gourmet Street-Food Market
Persons under the age of 3 enter free but are prohibited from entering specified areas
The Delicious Lounge in association with Tanqueray and Johnnie Walker R1450 per person per day
Includes the following:
Access into The Delicious Lounge
VIP Cash Bar
Tented lounge and furniture
Hostesses
Fenced Garden with sight lines to the Main Stage and Screens
Access to Private VIP Toilets
Access to all General Access areas (Main Festival terrace, Delicious Mile, DStv Channel activations, and more!)
World-class entertainment with the best international and local acts on the Main Stage
Reuben Riffel's Long-Table Restaurant
R750 per person per sitting (Either Lunch or Dinner)
Includes the following:
The added value of a multi-course gastronomic journey perfectly curated by Reuben Riffel
Long-Table seating
Access to a cash bar that'll compliment your every bite
No persons under the age of 18 may be served beverages with alcoholic content
Please note this package can only be purchased in conjunction with Festival Access Pass