Metro FM radio personality and Club DJ, Mo Flava, brings back his popular charity soccer day Playyourheartout and is inviting you to be a part of it.
 The 2018 edition of Playyourheartout will take place this Saturday, 14 July 2018 at 9 am at the Establishment in Alexandra township, Johannesburg. To participate, each team needs to contribute R1000 which will be donated to the Rata Bana Home in Alex. To book a place for your team contact 076 814 6654 or events@moflavadj.co.za.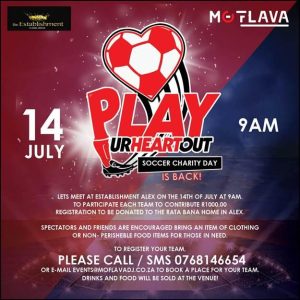 Spectators are also encouraged to bring an item of clothing and/or non-perishable food items for those in need. Mo Flava shared with KDanielles Media, "I'm a huge soccer fan and PLAYURHEARTOUT allows me to have fun with friends, old and new, and give back to an organisation in need. I'm looking forward to being challenged on the field. If you haven't registered yet, make sure to do so and I will see you on Saturday!"
Often attracting a diverse selection of teams from celebrities to all female teams, Playyourheartout is an event suited for everyone. Known as a philanthropist, Mo Flava's charitable endeavours always have a fun human element to them which is a testament to Mo Flava's personal character.
 READ MORE: My Journey To Success With Mo Flava
Make sure to catch Mo Flava on the award-winning show, The Drive, on Metro FM with Masechaba Ndlovu daily, and follow him on social media.
Facebook:  Mo Flava (https://www.facebook.com/MoFlavaDJ)
Twitter: @MoFlavaDJ
Instagram: @MoFlava
Website: www.moflavadj.co.za
YouTube: https://youtu.be/Nv6rqIrq5ZI