At 33, East Rand born Bongiwe Tshiqi, shares what it's like to head a magazine that has 3 million readers as well as her success tips
Share with us your childhood background, what were your career aspirations?
I was born in Benoni, in the East of Johannesburg. I don't necessarily think I knew what I wanted to venture into for the longest time, even in Matric. But I knew I had a love for media. My passion for reading and media comes from home. My parents were big media consumers, from newspapers, to television and music. A lot of conversations around the goings on in the world were a big part of our upbringing. So, in matric, a career counselor advised that I should consider a career in Journalism because I was good in English. I studied Journalism at Durban University of Technology. I chose Durban because I wasn't familiar with the area and I suppose I was seeking an adventure of sorts.
Tell us about life after graduation
I interned at East Coast Radio for a year and then became a permanent journalist there for four years. It was interesting and it also taught me a lot about myself and where my true passions lay, and hard news wasn't it. I then went to work at Saltwater Girl Magazine. The magazine had just decided to branch from being a niche title that focused on surfing to cover different aspects of a teenage life including fashion, beauty, friendship and relationships. I was working there as the assistant editor as well as an online editor. We were literally strategizing all the time and worked with a small team, but it was an interesting experience as there was a lot I learned, from an editorial to a management point of view. I moved from Durban to Cape Town to their main offices. Shortly after that the magazine shut down and I moved to Women's Health magazine. The move to Women's Health was to learn from and work with Kate Wilson, who I looked up to and who was the editor of that title at the time. It was a great experience as I saw a team that was so invested in that brand. I then came to Johannesburg to work on an up and coming website under Time's Media called Daily Planet as their deputy editor. I worked there for almost two years before it shut down. I came to Bona magazine as their digital editor in 2015. Then in 2017 I became the magazine's editor!
Share some of the challenges you experienced in your career journey as a young person
I have worked with a lot of brands and a few companies where change was a big part of their agenda. Being a young person who walks into a room with people who've worked on particular brands for years is difficult. It's difficult to talk about change when you are young as your age and 'lack of experience' is often the reason some of your team members resist it. I have always understood that you can't rework a brand overnight. You have to take baby steps, which is a challenge for me as I am not a very patient person. But as a young person you have to work on the long-term goal without alienating your team and especially your target market, for me, it's the readers of the magazine. At times, people will underestimate you and think you are unrealistic but the industry I am in is slowly learning to trust young people to run their brands.
So, what exactly is the role of an editor?
Firstly, I would like to stress that it's not as glamorous as it's perceived. There is a lot of strategy involved in ensuring that the brand meets the needs of all our stakeholders, from our clients to our readers. I have to make sure that our magazine understands the woman that we speak to so we can engage her in a way that she will appreciate, from the tone of the articles, to the images and cover stars we feature. I work closely with heads of different departments in editorial and sales and create a space where corporates advertise on our platforms. The magazine comes in four different South African languages so that has to be taken into consideration. I have to ensure that we market the brand well and create events that connect with our readers. I manage the team and our freelancers as well.
How big is the team that you manage and how is your management style?
I have 19 people in the team and I want a team that is clear in how they fit in the overall success of the brand. I entrust my team to manage their different departments the best way they know how, bearing in mind the vision of the brand and the deadlines that must be met. I like creating a space where everyone feels free and confident enough to give ideas and try new things.
What is your short term and long term vision for Bona Magazine?
My short-term goal is that the current issue sells! Long term is to definitely get more readers, grow our brand identity and continue the conversations we engage in with our readers.
A lot of people, in managerial roles, can often be tough on their team, which we think stifles productivity in the workplace. As a leader in the corporate space, what's your take on this kind of management style?
I can't talk about how people choose to manage their team but I find that how people manage teams is linked to how they were once managed and thrived. Some managers feel that the best way to get results is by being tough. Personally, I believe in making my team feel like we are all partners and that we all have the same goal to achieve. I am inclusive when it comes to decision making and letting my team know about everything that concerns Bona Magazine.
How do you define success and do you feel you achieved it?
I feel that success changes all the time. It always changes when you have ticked all the goals you wanted to achieve. I feel that it's important for one to celebrate each milestone, no matter how small it is. I feel I have achieved a lot of things that I am grateful for but there's more to do.
What are your success tips to young people?
I have two words: Do you! Don't look around at other people's achievements and try to emulate that. Formulas for success are not the same. Be yourself and tap into what makes you special and happy. Trust that what you want in life will come to fruition as long as you work hard for it. Giving up is the worst thing to do, as much as it's hard to be optimistic all the time. I was retrenched more than once in my career but I didn't give up on my career. You must fight self-doubt and all it takes is choice. Ask around and think outside the box to make yourself marketable in whatever you want to venture into.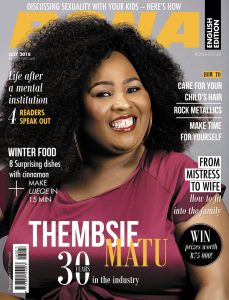 Get a copy of the July issue, out on sale.
Visit: https://www.bona.co.za
Facebook: https://www.facebook.com/BonamagSA/
Instagram: @bona_mag
Twitter: @BonaMag