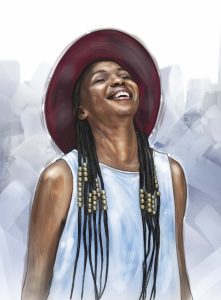 Jazz music sensation, Thandi Ntuli, shares with us what sparked her passion for music, the Jazz festival taking place from June 2018 and her success tips
Share with us your childhood background, what sparked your interest in music?
I actually started playing the piano because of my mother's love for the instrument but I really took an interest to creating music in High School when I was about 16. I used to lose track of practicing and rather composed music and write lyrics. When I performed one of my compositions at a school event, my choir teacher suggested I look into studying music further and to make a career out of it.
You studied Jazz Performance at UCT, why did you tap into that genre?
Jazz was something I formerly got introduced to on my gap year in 2006 when I witnessed a pianist playing so beautifully without sheet music. When I asked what he was playing he said he was improvising which I could hardly believe. Upon asking him more about his background and how I could go about doing what he was doing he suggested that I learn jazz which would equip me with what I needed to improvise.
Share with us life after varsity, how did you break into the music industry, what were some of the challenges and highlights you faced?
I started performing whilst I was in University, in my second year. I would do gigs here and there and learnt a lot about things that would equip me in the future to become a working musician. As time went by and I gained more experience when I started to work with established artists.  In 2012 I auditioned for Thandiswa Mazwai's "All Woman Band" which is what brought me to Johannesburg and exposed me more to the actual industry. The most common challenge was navigating the irregularities of work. Often having to loan money to pay rent and manage what was a rollercoaster of emotions… sometimes being so depressed by the insecurity of it all and other times being on such a high from incredible experiences and amazing gigs played. I remember the year I decided to record my debut album, it started particularly slow and I was so broke! But I appreciate what that experience taught me about myself and that by making a solid unmovable decision you can transcend your circumstances.
You released your new album, Exiled this year, how is it different from your debut offering and what can people expect from it?
I think because I was a different person in the time of writing the music, I expected the album to naturally reflect my growth. I had a few collaborators on this album, like Lebo Mashile who included spoken word.  He also used electronic elements in the production and wrote in a very "pop-like" way not giving too much room for improvisation. In studio that meant many songs were recorded to click track so I could do post production on the work. Most notable difference I'd say is that I sing more on this album.
If you could, what would you change about the music industry?
A lot! But two things would be to increase the number of well functioning live music venues (locally at least) and make the industry more art than profit driven.
Who would you like to work with locally and internationally?
Would love to work with Oumou Sangare, Ambrose Akinmusire and Brice Wassy to name a few.
What is the best career advice you received that you still live by?
"This gift (music) can take you places you never dreamed were possible, but you have to always remember to keep you intentions pure!" I got that advice one evening chatting to Mam' Dorothy Masuka and Mam' Abigail Kubeka.
If you don't make music, what keeps you busy?
Either reading, doing yoga, trying to cook something, being with people I love… it doesn't really matter what we are doing.
You will be part of this year's Standard Bank Jazz Festival in Grahamstown, what are you looking forward to and what can fans expect from you?
I'm looking forward to the passing of the pressure. Ha ha ha! Just joking, I'm looking forward to the whole festival as its always a great place of inspiration for me. Be it from meeting and interacting with other professional musicians or the students who come to the festival. Fans can expect music from my latest album and great collab projects.
Which Jazz artist played a role in inspiring you to pursue this music career and in the music you make?
I don't think there is just one. I'd say Francis Ovie who is the man I saw playing piano without sheet music. And maybe Moses Molelekwa because he brought an intrigue for an approach of piano playing that blew me away.
Who should listen to your album and what is the main message that you want to spread through it? 
I don't prescribe who should/ should not listen, I think the music is for anyone who is ready and open to it. I also find it hard to single out one message because I think people should be given room to make their own discoveries in listening to the music.
What is it about Jazz music you wish South Africans knew, especially the youth?
That Jazz music is not as inaccessible as what people think.
How do you define success and do you feel you have reached it?
Success is different for me now than it was 5 years ago. I now think that success is allowing yourself to be used in service of others, it is joy and unconditional love. And I also believe it is something to be practiced rather than reached.
What are your success tips to young people who want to break into and be successful in industries they are passionate about?
Trust your dopeness and honour your own journey. The path will find you!
Thandi's performances at the Standard Bank Jazz Festival in Grahamstown:
Thandi Ntuli
28 June, 17:00
DSG Hall
R95
Featured Artists: Thandi Ntuli (piano), Mthunzi Mvubu (sax), Linda Sikhakhane (sax), Marcus Wyatt (trumpet), Justin Sasman (trombone), Keenan Ahrends (guitar), Benjamin Jephta (bass), Sphelelo Mazibuko (drums), Tlali Makene (perc)
Thandi Ntuli – Rebirth of Cool
30 June, 23:00
DSG Hall
R95
Thandi Ntuli (piano), Linda Sikhakhane (sax), Sthembiso Bhengu (trumpet), Senzo Ngcobo (trombone), Benjamin Jephta (bass), Sphelelo Mazibuko (drums), DJKenzhero (DJ)
Connect with Thandi Ntuli on:
Facebook: https://www.facebook.com/thandintuliartist/
Instagram: @thandi_ntuli
Twitter: @ThandiNtuli