Are you wondering what to prepare this week? The Lazy Makoti has you covered with these delicious dishes that are easy to prepare. 
These days it's easy to master the kitchen like you do in the workplace, especially with these quick and simple recipes below: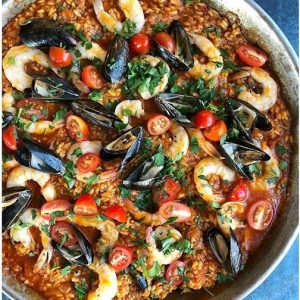 Seafood paella
Ingredients:
2 tbsp olive oil
1 onion, finely chopped
1 carrots, peeled and cut into julienne strips
2 cloves of crushed garlic
2 tomatoes, skinned and finely chopped
2 tsp lemon and herb spice
350g long-grain rice
1kg mixed seafood (fish, prawns, calamari and mussels)
2-3 tbsp fresh coriander or parsley, chopped
Handful cherry tomatoes to garnish, halved
fresh limes or lemons, cut into wedges
Method:
Heat olive oil in a large frying pan. Add onion and carrots, and fry over a low heat for two minutes. Add garlic, tomatoes, and spice and fry for three minutes. Add the rice and stir well to make sure the rice is well coated. Add about 2 cups water and bring to the boil.
Simmer for 10 minutes.
Add seafood, coriander and stir well.
Cover and simmer for a further 10 -15 minutes.
Add a little water if it gets too dry.
The dish is ready once the mussels open and the rice is tender.
Season with salt and freshly ground black pepper, coriander, cherry tomatoes and lemon wedges.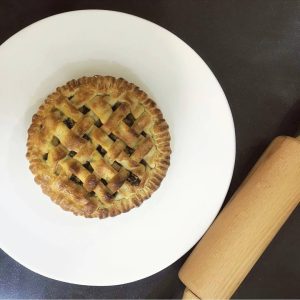 Apple pie
Ingredients:
For the filling:
30g butter
4 large apples, peeled and sliced
1 orange, juiced and finely grated zest
⅓ cup brown sugar
2 tbsp cornflour
1 tsp mixed spice
1 egg, lightly beaten
To make pastry: buy it ?
To make filling
Heat the butter in a large saucepan, add the apples and cook until they're just beginning to soften. Add sugar, cornflour and spice Stir just until mixture is hot, but not boiling.
Pour the filling into a pie dish and leave to cool.
Preheat the oven to 180C
Roll out the pastry 1 cm thick. Slice into wide strips. Arrange the strips in a lattice pattern over the filling, and trim the edges.
Brush the pastry, very lightly, with beaten egg, and then place the pie onto a lined baking tray and bake for 20 minutes, then turn the oven down to 160C for a further 15-20 mins.
Leave to cool slightly, before serving warm with ice cream or whipped cream.
Congratulations to Mogau Seshoene for becoming the food editor of The Sunday World.
Connect with The Lazy Makoti on:
Facebook: https://www.facebook.com/thelazymakoti/
Instagram: @thelazymakoti
Twitter: @thelazymakoti
Ingredients and images supplied by The Lazy Makoti