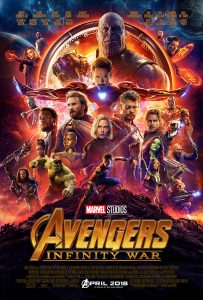 Marvel Studio's superheroes have joined forces again from all parts of the world and the galaxy in a quest to save humanity from the villainous Thanos
All roads and spaceships lead to Wakanda, where good and evil battle each other out. Thor (Chris Hemsworth), Iron Man (Robert Downey Jr.), Hulk (Mark Ruffalo), Black Widow (Scarlett Johansson) and the rest of the Avengers join forces to fight the supervillain, Thanos (Josh Brolin), who'll stop at nothing to fulfil his evil plan of destroying half of humanity. Directors Anthony Russo and Joe Russo reveal from the opening sequence the dominant presence of Thanos who will stop at nothing to squash anything or any superhero standing in his way to collect all infinity stones, not even his beloved Gamora, played by Zoe Saldana. The 2 1/2 movie unfolds with a lot of blockbusting action, packed with comic punchlines and seat shifting suspense. So what's the deal with these six Infinity stones that the purple, tough looking Thanos badly wants in his possession? These gems, which represent mind, soul, time, power, reality and space are the pillars of humanity's survival, which the Avengers will do anything in their power to protect.  If Thanos succeeds in collecting all stones, it would enable him,  to destroy half the beings in the universe. An unprecedented cinematic journey ten years in the making and spanning the entire Marvel Cinematic Universe, this movie brings to the screen the ultimate, deadliest showdown of all time. Seeing all The Avengers and their Super Hero allies in one screen is what makes this movie special, and reportedly the most expensive to make yet. These heroes must be willing to sacrifice all in an attempt to defeat the powerful Thanos before his blitz of devastation and ruin puts an end to the universe. No one, in the presence of this villain, is safe and the superheroes feel it too. Although I have learned that there is part 2 of this sequel (thank Gawd), it's the ending that will surprise you, and one that will make you anxiously anticipate for the second installment. The verdict: It's worth the watch.
Avengers: Infinity War is out in cinemas, nationwide from Friday, 27 April 2018.
Check out the trailer below:
Image source: Zoe Saldana Instagram
She plays the character of  Gamora