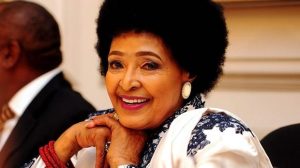 Affectionately known as the mother of the nation, ANC stalwart and anti-Apartheid struggle veteran Winnie Madikizela-Mandela has passed away.
81-year-old ANC veteran Winnie Madikizela Mandela has died on Monday, 02 April 2018. This is the statement offered by the family:
It is with profound sadness that we inform the public that Mrs. Winnie Madikizela-Mandela passed away at the Netcare Milpark Hospital' Johannesburg' South Africa, on Monday, April 2, 2018.
She died after a long illness' for which she had been in and out of hospital since the start of the year. She succumbed peacefully in the early hours of Monday afternoon surrounded by her family and loved ones.
Mrs. Madikizela-Mandela was one of the greatest icons of the struggle against apartheid. She fought valiantly against the apartheid state and sacrificed her life for the freedom of the country. Her activism and resistance to apartheid landed her in jail on numerous occasions' eventually causing her banishment to the small town of Brandfort in the then Orange Free State.
She kept the memory of her imprisoned husband Nelson Mandela alive during his years on Robben Island and helped give the struggle for justice in South Africa one its most recognisable faces. She dedicated most of her adult life to the cause of the people and for this was known far and wide as the Mother of the Nation.
The Mandela family are deeply grateful for the gift of her life and even as our hearts break at her passing' we urge all those who loved her to celebrate this most remarkable woman."
KDanielles Media mourns the loss of Mama Winnie Mandela and our sincerest condolences to her family.