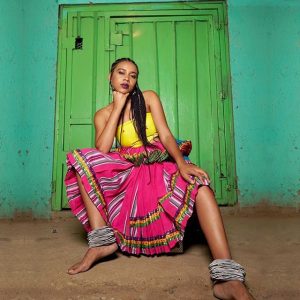 25-year-old Maya Wegerif, commonly known by her stage name, Sho Madjozi shares how her passion for entertainment came about, as well as her success tips to young people
The rapper and poet burst into the music industry when she featured in Okmalumkoolkat's 2016 hit single, Gqi. She has since made waves in the music industry when she featured in another single, dumi hi phone by PS DJZ. Sho Madjozi will be amongst esteemed stars that will be sharing the stage at the Absolut Live Experience on 24 March 2018 in Johannesburg. This is how the conversation went:
Give us a glimpse into your childhood, what were your career aspirations?
I  wanted to be all sorts of things. At some point, I wanted to be a teacher. When you are a kid, you are not fully aware of what these jobs actually mean until you get older.
You first pursued a career in politics, why such a career shift to entertainment and what drew you to it?
 I was highly influenced by my politically-active parents and got inspiration from them. I wanted to work in the African Union after graduating in 2014, but after working on a few political campaigns in Senegal and Tanzania I realised that I didn't really have the personality for it. To be honest, music happened coincidentally when I came back home in 2015.
Share how your collaboration with Okmalumkoolkat on the song Gqi come about?
Upon my arrival, I went to Okmalumkoolkat and requested to be a ghostwriter, but he thought I should rap instead. Looking back we had no idea those moments were going to be so life-defining!
Share some of the challenges and highlights you have experienced in your career so far?
My whole life right now is a highlight and it's kind of hard to believe. The Absolut campaign is a dream come true, getting to plan my own stage at the One Source Live festival is extremely exciting. I get free stuff all the time now and I have celebrity friends. That is epic!
Apart from making music, what keeps you busy?
My production company Flourish and Multiply (FAM) is another joy in my life. We are currently shooting a documentary titled the History of XIbelani. We've been getting more and more other work too. I really want to get to the point where we make movies soon.
Which other artist would you like to collaborate with and why?
I'm obsessed with the Afro-trap movement in France and West Africa and would love to collaborate with the king, MHD.
Share what we can expect from you for the rest of 2018
More growth and expanding my music into other parts of the world. I am also venturing into the hair business and will be launching the Madjozi Braids range soon. I also act as Tsakane Mboweni on Mzansi Magic's telenovela, Isithembiso.
What other long-term goals do you aim to tick off?
I want to build a waterpark in Shirley, a village in Limpopo, where I grew up.
How did the Absolut One source live concert come about and what can your fans expect from you?
Well, Absolut is one of the biggest supporters of African creativity and I guess they decided that a massive festival celebrating this creativity is the best way to support African artists. I am fortunate to be one of the artists included in this experience. I will be performing on the main stage, where some of my favourite artists from Africa will perform and collaborate.
How would you define success and what is your advice to young people who want to build successful careers or business?
I guess you have to decide for yourself what will make you happy, name it success and go after it. For me, I want to live a life with no winter. I want to be able to go elsewhere in the world every time it gets cold in SA. If I can achieve that I will say I'm successful. I hate the cold.
Connect with Sho Madjozi on:
Facebook: https://www.facebook.com/shomadjozi/
Instagram: @shomadjozi
Twitter: @ShoMadjozi
Image source: Instagram