Actress Michelle Mosalakae joins forces with global icons to be one of Revlon's ambassadors. She shares what beauty means to her and what the mission of the #liveboldybrigade is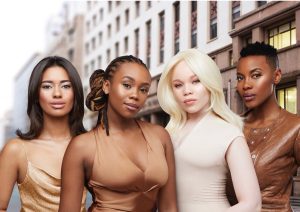 Social media was ablaze a few days ago when the four ladies, Michelle Mosalakae, Bontle Modiselle, Luthando Shosha and Kim Jayde took to their social media handles the announcement that they have teamed up with Revlon SA for a beauty campaign that many South African women will relate to. Mosalakae said on twitter, "We are here Mzansi. Your very own #LiveBoldlyBrigade. We are here to represent you and to inspire you to be confident and to be BOLD! Love the skin you are in and be fearless!"
The actress told KDanielles Media that she met up with the global brand in the early days of 2018 and underwent a very long interview process where she defined what beauty means to her. "To me, beauty is beyond the physical attributes of a woman, it's how you carry yourself and how you treat others. It's an internal feeling that eventually radiates externally. What I love about being part of this campaign is that it is relatable to many women. The #LivebodlySA movement is about celebrating beauty and diversity. I am testimony that beauty comes in all shapes, sizes, and shades and that as women, we are more than capable of making our dreams come true." You will be seeing this campaign on your television screens and in magazines soon. The four beauty brigades will also share the campaign on their social media handles, so be on a lookout.
READ MORE: My Journey To Success with Michelle Mosalakae
Below are Mosalakae's beauty tips:
Beauty begins by taking good care of your skin. Do that by cleansing, toning and moisturising your skin every day. Also, exfoliate and mask twice a week.
Drink a lot of water to keep your skin hydrated and
Always apply sunscreen. Many people with more melanin believe that their melanin is enough to protect them from the sun, but the reality is that the skin and its harshness does not discriminate.
Connect with Michelle Mosalakae on:
Facebook: https://www.facebook.com/michellemosalakae/
Instagram: @mosalakaem
Twitter: @MosalakaeM