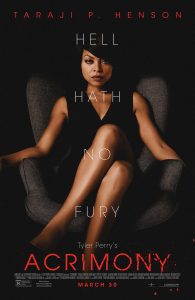 A new suspense thriller about deception and revenge is about to hit the cinemas later this month and we cannot wait to see life through the lens of a scorned woman
A faithful wife would do just about anything for love… even support her devious husband for years against her better judgment. But then she expects and deserves the same kind of loyalty, because deception on his part may just push her over the edge… just like it did to Melinda, played by Taraji P. Henson, in this psychological suspense thriller.
Acrimony is American actor, comedian, scriptwriter and director, Tyler Perry's latest offering and contains all the ingredients needed for an unforgettable blockbuster.  The film will open at South African cinemas on March 29.
Over the years Perry has scripted various successful stage productions, which were later adapted for the big screen. He is best-known for the character, Madea, of the Madea comedy franchise and has written, produced and directed popular films like Diary of a Mad Black Woman and Daddy's Little Girls. He's also worked on television series such as House of Payne and The Haves and the Have Nots.
Melinda, a loyal and faithful wife, is tired of standing by her scheming husband, Robert (Lyriq Bent). She becomes enraged when she finds out that he is leading a double life and cheating on her with another woman (Crystle Stewart) and decides to take revenge… because hell hath no fury like a woman scorned. The story unfolds in flashbacks during her sessions with a psychiatrist and ends up with her having to prove her 'innocence' in court.
The movie not only boasts a beautiful set design but also a star-studded cast, which includes Golden Globe winner Taraji P. Henson, known for her portrayal of Cookie Lyon in the award-winning hip-hop television series Empire, Lyriq Bent, Crystle Stewart, Jazmyn Simon, Danielle Nicolet, Ajiona Alexus , Jay Hunter, and Jason Vail.
This nail-biting thriller will take you on a dark journey of revenge and betrayal. It will resonate with anyone who has ever been hurt, cheated on or betrayed, but will especially appeal to fans of Tyler Perry's earlier work.
It's definitely a date.
Check out the trailer and let us know what you think: