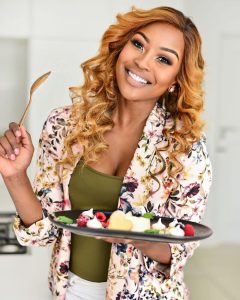 Television host and food enthusiast, Lorna Maseko shares how her passion for food and hosting was sparked and her success tips to young people
What sparked your passion for entertainment and especially for the food industry?
I have always had a love for entertaining and cooking but being a contestant at celebrity Master Chef drove my passion for the culinary even more. Since I love hosting my friends for dinner everything food-related took over from there. Master Chef provided the opportunity for me to host Top Chef South Africa.
You wear many caps in your career, what is the most fulfilling?
Everything that I do feeds intertwines. I am an entrepreneur meaning I am not afraid of exploring different things. I love cooking and am a creative person so what I do balances itself out. The biggest thing is that I want to grow and expand my brand to heights that even shock me. I don't think people should be content with who they are and what they do but thrive to be more and do more.
Describe your busiest day
My busiest day would be when I shoot the show, and since I am a director of different companies I am always on my e-mail ensuring that things run smoothly. Sometimes I would be busy planning an event for a client or putting together a recipe. My days are never the same and always busy but I love every minute of it because I don't want to do repetitive things because that's how one gets bored and complacent.
What has been your biggest highlight in your career?
The biggest highlight of my media career is being the host and one of the executive producers of my show, which has always been my dream and that keeps me motivated. I have seen that when you are patient and work towards your dreams they eventually come true. My philosophy in life is keep it moving because a door will open.
How would you define success and do you feel you have reached it?
I think that success is different for everyone but for me, it's definitely achieving the goals I have always wanted to. It's about having inner peace and the freedom to do what you want to do. Have I reached it? I think I have a long way to go because I have bigger dreams and goals I am yet to achieve.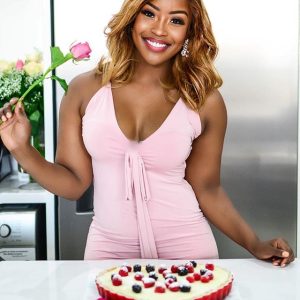 Who and what do you credit some of your milestones to?
The people I choose to hang with and my friends who inspire me. I read a book that state that look at the five people you are around and that will tell you where your future will be. The people around me are hustlers and make things happen and that inspires me. Also, my relationship with God is also a big credit because it grounds me and when I feel I am at my lowest it gives me hope. It's also hard work, you have to put in the work to be successful.
What other career and business ventures are you into?
I am currently a director of a company that supplies mining equipment, which is a great opportunity. I worked there for four years and I am now one of their directors. I love that it pushes me beyond my comfort zone but it goes back to wanting to grow.
How do you unwind?
I love being at home and watching television, especially cooking shows and detective documentaries.
What is your favourite traveling destination and why?
I love Hong Kong, it's such a vibrant place to be and the food is phenomenal. I also love Paris, for its romance, beauty, and food.
What is your advice to young people who want to successfully achieve their dreams?
My advice is not everything you do will work out, I have embarked on business opportunities that didn't work as well as I thought but that's okay. I think the key thing is to take risks and not wonder how things would have turned out. Don't be afraid of failure because it provides you the opportunity to learn. But keep going and keep pushing forward.
Tune in to catch celebrity guests, discover amazing venues and learn mouth-watering recipes to take your event to the next level every Wednesday at 20:30 on SABC 3.
Connect with Lorna Maseko on:
Facebook: https://www.facebook.com/Lorna-Maseko-109573672416976/
Instagram: @lornamaseko
Twitter: @Lorns_Maseko
Image source_ Instagram