Laduma Ngxokolo shares his success journey of taking his Xhosa brand to the global map, as well as his advice to the youth
Fashion icons have approved him, brands have endorsed him and even global singing sensation, Beyoncé loves his work. Knitwear designer, Laduma has had a successful career making his Maxhosa by Laduma brand a globally renowned one. In fact, it's hard to believe that he never considered a career in the fashion space up until high school where he was exposed to textile and fashion design. "That field grew on me and I was fortunate that my late mother agreed to teach me how to knit since my high school days," says the designer.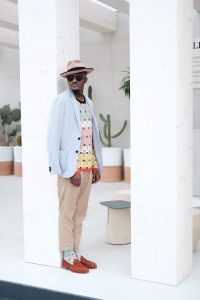 It was during his last year, in 2010, at the Nelson Mandela Metropolitan University, where he studied textile design and technology that he conceptualised a premium knitwear range that celebrates traditional Xhosa culture, especially for the initiates. "I started my Maxhosa by Laduma brand in 2011 mainly because I wanted to add an element of my personality in a culture that I was born into and also modernise it."
The designer has had an interesting six-year journey, where he managed to capture the hearts, nods, and awards from fashion lovers not only in South Africa but in other countries, such as London, Berlin, Paris, Amsterdam and New York. In addition to many fashion accolades, Laduma won the Vogue Italia Scouting for Africa prize to showcase his collections at the Palazzo Morando Show in Milan, Italy in 2015, while doing his Master's at Saint Martins in London, which he completed in 2016.
Laduma has a team of 24 people that help carry his brand to where it is today. He admits that his collections are no longer seasonal as they have branched into designs that are no longer strictly knitwear. "Amongst the many highlights I have had winning the Best Design in Southern Africa last year was one of the biggest. And the fact that Beyoncé credited my work at the  Cooper Hewitt Smithsonian Design Museum in New York City, shows that there is something right I am doing," he adds.
The designer also had a great year in 2017 when he collaborated Nivea for their Invisible Black & White Deodorant campaign that they were marketing. "The collaboration worked well for my brand as I was able to communicate with a broader audience," Laduma mentions.
Laduma has a simple explanation for success. He says, "Success is a personal fulfillment and celebrating each milestone you achieve. It's not a final destination but a continuous journey."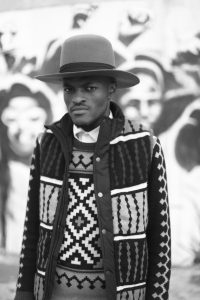 When it comes to his success tips, he advises that education is very important. "Also make sure that you work hard and smart for the goals you aim to achieve."
Connect with Maxhosa by Laduma on:
Facebook: www.facebook.com/MAXHOSA/
Instagram: @maxhosa
Twitter: @MaXhosaByL
Image source: Laduma Ngxokolo