Anthony Moses Davis, better known as Beenie Man is making his awaited return to South Africa for a performance as part of his 'Unstoppable Tour'.
My best friends know that I am a music fanatic and when I heard that my all-time favourite musician of all time is heading to South African soil, I couldn't contain my excitement.  "The Girls Dem Sugar", hit maker is set to entertain fans, such as myself on the 1st of September 2017 at the New Music Factory (Formerly known as Bassline) in Newtown, Johannesburg.
This particular show will be special as it forms part of the singer's  44th birthday celebration, which was on22 August as well as celebrating 25 years being the king of dancehall in the music industry.
Mr. Davis, who was in Harare, Zimbabwe this past weekend will be joined on the Bassline Stage by other reggae & dancehall artists such as Admiral and Jah seed, Buffalo Souljah, Elcee Gweja, Jeremiah Fyah Isis, Celscius, Botanist and Fyah Linx, to name a few.
Beenie Man's blend of Jamaican dancehall and North American hip-hop just seems to be taking him higher on the music-to-make-you-feel-good scale.  He has been instrumental in helping other dancehall singers expand their music beyond the Caribbean. He has also worked with some of the biggest names in the music industry like Janet Jackson, Future Fambo, Henricci, Barrington Levy and Niki Minaj.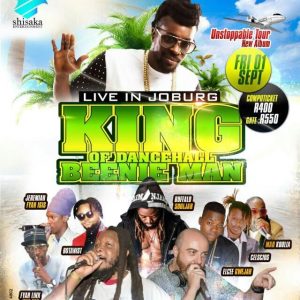 Usher in Spring, on 1st September and don't miss out on a great opportunity to witness the king of dancehall performing his old school as well as his new music. Get your concert tickets NOW at Computicket for R400 pre-sold and R550 at the gate. I am already counting the days.
For more information on Ticket Sales, contact Paddy on paddywattssdj@gmail.com
Here's a classic throwback of one of his great tracks featuring Janet Jackson: