Save the date to catch all the fashion, glamour and celebrity-filled annual Polo event this month
The count down to the country's leading and most anticipated polo event of the year has begun and the wait is almost over!  With just under four weeks left until the annual Inanda Africa Cup polo tournament, devotees of the sport can expect nothing short of unparalleled sportsmanship, thrilling expertise, exhilarating entertainment and glamorous high fashions.
The Cell C Inanda Africa Cup Polo Tournament, as the event will be titled, is the most prestigious yearly event on the Polo calendar and includes team participations from East and West Africa as well as Sport Development players and incorporates a well-established affiliation with the City of Johannesburg.
The tasteful settings of the Inanda Club, modelled on the lines of the Roehampton and Hurlingham Clubs in London and reminiscent of country living and rural tranquility, will serve as the back drop for day's lavish activities.
"Polo aficionados will have the opportunity to witness a great day of sport against the background of the striking Sandton skyline" comments Craig James Inanda's Polo Manager.
Not only will the day propose top class equestrian sportsmanship but there will be much entertainment on offer throughout the day.
Gaggenau, supporters for the second year in a row which will be sponsorsing Nigeria, is synonymous with exclusive culinary culture and will offer visitors and guests the opportunity of interactive experiences at their Culinary Station.
The Inanda Africa Cup will be attended by some of Johannesburg most important dignitaries, celebrities and VIPs who will talk fashion, glamour, glitz and beauty all blended in the theme for this' year's event 'Quintessentially African'; but ultimately the occasion is about polo. With teams participating from South Africa, Ghana, Nigeria, Zambia and Zimbabwe the competition will be extensive and players will be out to demonstrate their game skills and talent.
Having a taste of the event at the media briefing at the Inanda Club in Sandton, I, for one am excited about what this year's installment has to offer.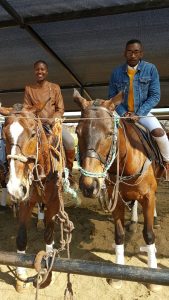 Make sure you save the date and be part of the glitz and glamour, on Sunday 20 August 2017, at the    Inanda Club, Forrest Road, Inanda, Sandton from 10:00 am.
Facebook: www.facebook.com/inandaclub/
Twitter: @InandaClub
Hashtag: #CELLCInandaAfricaCup
Buy your tickets NOW at TicketPro
Quintessential Africa Cup Suite, R2 500 – Per Person
Polo Chic Picnic, R5 000 – Boxes of 10
Public Tickets, R200 – Per Person
Private Hospitality Suites, Cost on Request