Looking for ideas on how to kick start your weekend with your date? How about some dose of comedy?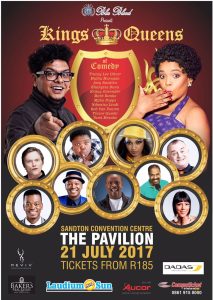 In medieval times, a jester was employed by a nobleman or monarch to entertain him and his guests.  The heavyweights of South African comedy are by no means jesters, but they certainly do entertain. Catch the Kings & Queens of Comedy at the Sandton Convention Centre on Friday, 21 July 2017. The stellar line-up of comedy giants includes Joey Rasdien (MC), Khanyisa Bunu, Krijay Govender, Mark Banks, Mpho Popps, Muthu Murugan, Ndumiso Lindi, Rob van Vuuren, Tracey-Lee Oliver, Trevor Gumbi and Tumi Morake.
Leading the pack is Joey Rasdien who will MC this royal affair.  Instantly recognisable, his endearing stage persona is intellectually absurd, physically hysterical and thought-provoking.
Teacher-turned-comedienne and actress, Khanyisa Bunu is a fan favourite.  She was the first woman to win the audience choice award at the Comics' Choice Awards and has also made her mark on SA TV with roles in Scandal! and Ses'Top La. The dynamic Krijay Govender is one of the funniest woman in South Africa.  A stand-up comic, award-winning actress, playwright and director, she is a rare mix of brains, beauty and creativity. With over 25 years in the industry, Mark Banks is one of the most respected comedians in the country.  He is widely recognised for his political satire and commonplace poke at the rich and famous.
Mpho Popps has a reputation for enthralling audiences.  With a unique style all of his own, his tempting stage personality, hilarious social commentary and high-energy impersonations has had thousands of South Africans in stitches. Known as the 'King of Indian Comedy', Muthu Murugan has been wowing audiences for many years.  Sharp-tongued and witty, Muthu will bring some Durban flavour to Johannesburg.
Ndumiso Lindi has come a long way from Zwelitsha, a small township in the Eastern Cape.  He is a brilliant young comic who is genuinely funny and his humour will appeal to fans across the demographic. A household name in South Africa, Rob van Vuuren became a comedian by mistake while he was trying to be an actor.  A natural funny man, he has established himself as one of the most prolific players in the entertainment scene – as an actor, writer, director, dancer and producer and has earned himself a very loyal following.
Tracey-Lee Oliver is a powerhouse singer, comedian and actress.  While she is no stranger to the stage, her move to musical comedy has taken her to another level.
Known to be outspoken and sometimes controversial, Trevor Gumbi is a firm favourite in the comedy scene.  His underlying charm offsets his assertive energy on stage, as he brings to the stage some politically uncomfortable issues and delivers them with hilarity.
Tumi Morake's impressive resume includes radio host, presenter, TV show host, brand ambassador, actress and 'Queen of Comedy' – her unique ability to deliver all the laughs and right punches has become synonymous with what fans have come to expect from this clever, witty and hilarious comedian.
Don't miss the Kings & Queens of Comedy, 21 July 2017 at the Pavilion at the Sandton Convention Centre.  The show is rated PG16 and starts at 20h00.  Tickets from R185 and are available through Computicket.
Another great production brought to you by Blu Blood five years in a row.
Follow Blu Blood on Twitter @BluBloodSA or visit www.blublood.com for more information.
Source: MS Publicity