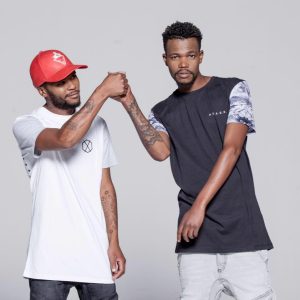 Known for their Chankura and Nice life problems singles, the Hip Hop duo plan to take the music industry by storm
Phethego Makanyane, 30, and Vusi Rantlha, 28, met in Katlehong, in the East of Johannesburg where they grew up. Their musical paths crossed that of Hip Hop sensation, Kwesta whom they met and worked with since 2008 while he was still under another music label. It was only in 2014, after they were officially signed under RapLyf, a music label that Kwesta and Kid X started that things started going well for them.
The group adds that, like other artists, it wasn't easy for them breaking into the music industry, but their passion kept them going. The hip-hop stars say that their stage name, TLT stands for timeless talent. Their first big step in the limelight was when they featured in Kwesta's song, Mmino which earned the nods of hip hop lovers and they have since performed on bigger stages and opened for international hip hop giants such as J Cole. Their single Chankura got more than 69 000 views on Youtube in 2016, when it was released. And their latest single, nice life problems, has been receiving airwaves since its release this year. "Our songs tell stories that people from where we come from relate to. We all want to make it out of the ghetto and live our dream lives. In terms of the sound, we play around with old school sounds, elements of jazz, as well as maskandi. Nice life problems is about being content with what you have right now even though you have bigger dreams," they mention. Their album, Amazing, will be released later this year. Some of the people they have worked with on the album are Tweezy, Gemini Major and Makwa6eats.
The stars mention that it is an amazing experience finally seeing their musical dreams come true. As the first group being signed under RapLyf TLT want to make the most of the opportunity given to them. They add that they are finding sustainable ways to tap into the business side of music, as hip-hop is a short-term career. To the aspiring musician they advise, "The music industry is not as easy as it looks. You have to be passionate about it because that will keep you going when you face challenges. Do a lot of research about how the industry works, leave no stones unturned and know what you are getting yourself into. Importantly build good relationships, pray hard and work harder."
Connect with TLT on:
www.facebook.com/TLTamazing/
Twitter: @TLT_AMAZING
Instagram: @tltamazing