Celebrate the special man in your life this Father's Day by trying out these two simple recipes from the talented chef, Nono Mtshali
The saying a way to a man's heart is through his stomach couldn't be truer. Show your dad you appreciate them with these two simple and delicious recipes: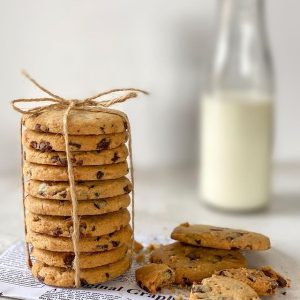 Sis baked cookies
Ingredients:
* 180 g unsalted butter, softened
* 1 cup brown sugar
* 1 large egg
* 1 large egg yolk
* 1 ½ teaspoons vanilla essence
* 2 ½ cups flour
* 1 tsp bicarbonate of soda
* 1 tsp salt
* 1 cup chocolate chips
Method:
* Preheat the oven to 180°C. Line 2 baking pans with baking sheet paper; set aside.
* In a large bowl, cream the butter and sugar together with an electric mixer at medium speed until fluffy, about 3 minutes.
* Beat in the egg, egg yolk and vanilla until well combined.
* In a separate bowl, combine the flour, bicarbonate of soda, and salt with a whisk. Add all the flour mixture to the butter mixture and beat on low speed just until almost fully combined.
* Gently fold in the chocolate chips.
* Using a cookie scoop, scoop mounds of dough onto the prepared baking sheet spacing them 2 inches apart.
* Bake for 10-15 minutes or until lightly brown around the edges. Enjoy!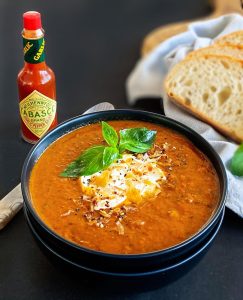 Tomato soup:
Ingredients:
* 2 tbsp olive oil
* 1 white onion, diced
* @tabascosa garlic pepper sauce, to your liking
* 1/2 tsp crushed red pepper
* 1/4 tsp each salt & pepper
* 2 cloves garlic, minced
* 2 cans crushed tomatoes
* 1 can chickpeas, drained and rinsed
* 2 cups boiling water
Method:
*  Heat the oil in a pan over medium heat.
* Add the onion, red pepper flakes and cook, stirring occasionally, until the onions have softened.
* Add the garlic and cook until fragrant, 1 minute more.
* Add the tomatoes, chickpeas, water to the saucepan and salt & pepper; bring to a boil, reduce to a simmer, and cook, stirring occasionally, for 10 to 15 minutes.
* Taste and adjust seasoning.
* Add @tabascosa garlic pepper sauce and stir.
* Ladle the soup into bowls, sprinkle onion flakes and add cream cheese, if desired.
* Serve with bread.
What recipe do you enjoy making? Share in the comments below.
Connect with chef Nono on:
Facebook: Facebook.com
Instagram:  Instagram
Be sure to get her new cookbook, order it from her social media account.