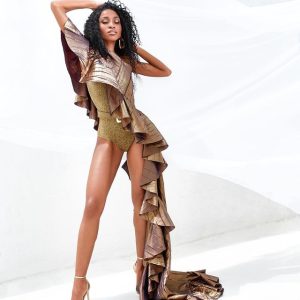 Miss South Africa 2020 first runner-up Thato Mosehle is making history as the first contestant to represent SA at the Miss Supranatural pageant this year. She tells us more as well as her success tips
Which Miss South Africa titleholder inspired you to consider being in the pageant?
Rolene Strauss. She was a medical student in the same varsity I studied at. That's when I saw the possibility of doing both.
What attracted you to the medical profession and what mark do you wish to leave in your field?
Growing up I was not exposed to the medical field as there were no doctors and nurses in my family. Medical TV shows were always very interesting to me and the only exposure I got which turned to have a big influence on my life.
If you were to host three women locally or internationally for dinner who would they be and what would you discuss?
Dr Patience Ntshani (AKA DR Pashy) I would discuss the possible challenges that a black woman has to face in order to become a specialist anaesthesiologist.
Tamaryn Green, just to discuss how life is in the medical field after pageantry.
Oprah Winfrey to discuss how she managed to build a culture of strong, independent and motivated women in South Africa.
You will be the first Miss South Africa contestant who will represent SA at Miss Supranational, do you feel any pressure and what will you tell the world about South Africa?
I feel more excited than anything else. It's a huge honour and I have the privilege of being the first to showcase the calibre of our South African women.
What makes you proudly South African and proud to be a woman in South Africa?
The resilience and strength we have. South African women are faced with many challenges such as femicide, poverty, and discrimination; however, they always have the spirit of resilience and standing up for what is right.
What do you enjoy doing in your spare time?
Netflix and doing my make up for no reason.
As Miss South Africa first runner-up, how are you using your platform to address issues and campaigns close to you? What are they?
Together with the Miss SA Organisation, I'm planning on launching projects which are in line with education and youth empowerment.
What is your definition of success and do you feel you have achieved it?
Yes, I think I'm a successful individual, because every goal that I've set for myself (big or small) I've achieved, and that's my definition of success.
What would you like to be remembered for?
My ability to light up a room and make anyone feel seen.
What makes you unique as a person and what traits do you have that you would like to improve?
My personality and sense of humour are very unique. I'd like to more assertive and patient.
How would your family and best friends describe you?
Vibrant.
Lastly, what are your success tips for young people?  
Make a vision board, what you constantly see and read is what you will believe.
Don't panic about the future, achieve your daily goals and the future will turn out just fine. Don't adjust who you are to fit the mould, if it's for you, even the mould will have to change.
Connect with Thato Mosehle on: