With the over-saturation of brands entering the beauty market worldwide, this Heritage Month, Halo Heritage — the new leading creators of luxurious natural hair-care and fine fragrances— are setting themselves apart from the rest by bringing African beauty back to its roots.
For decades, high-end black hair-care products and fragrances, two lucrative categories in the global beauty sector, have remained largely untouched in South Africa. Diving into this untapped niche, Halo Heritage is bringing crafted luxury and prestige to the natural hair and celebrity fragrance market with an indulgent range of premium beauty items created for Africans and by Africans, that both entice and inspire. "We want to empower young girls and women to feel strong, beautiful and confident with their natural crowns. We want them to wear their hair naturally and feel proud and comfortable while doing so. Halo Heritage aims to not only meet the needs of black South Africans but to also celebrate the proud heritage of natural hair, give more shine to beautiful black skin and lead the way in African celebrity fragrances."
For their first official product launch, Halo Heritage is setting quite the benchmark, solidifying their place as innovators and pioneers in the local luxury beauty sphere with an iconic brand and celebrity partnership that is guaranteed to generate a buzz: Boity Pink Sapphire, a proudly South African, premium, first-of-its-kind eau de parfum developed in collaboration with actress, musician, entrepreneur and style star Boity Thulo.
"Pink Sapphire embodies Boity's bubbly and joyous personality — she's elegant yet approachable, down-to-earth but sophisticated. Together, we created a signature scent that's fit for the sensual, feminine, multifaceted woman who is in charge of her destiny," said Inge Peacock, CEO of Halo Heritage.
https://www.instagram.com/p/CEtJt4Dnf93/
Boity added, "When the opportunity came about, I couldn't say no. With my previous experience co-creating body perfumes, I considered this as the sensible next step that would give consumers broader insight into what I can offer as a businesswoman. After turning 30, I wanted to work on a fragrance geared towards a more mature audience, so in many ways, this collaboration was perfect timing."
"It's a powerful but elegant fragrance. The top notes that you smell at first are the sugar, the fresh tangerine and wild marigold. After a few moments, you'll smell the amber, jasmine, and French lavender and finally, the heavier base notes of ambroxan, moss and cedarwood bring that incredible depth – they balance out the sweeter notes perfectly. I just love it!".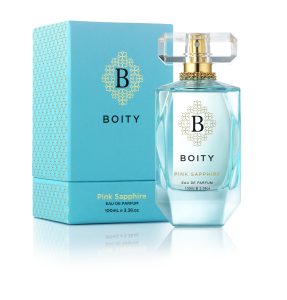 For this fragrance, Halo Heritage and Boity worked closely with French perfumer, Emilie Bouge, who brings over 22 years of experience in the art of perfumery. The fragrance is manufactured in Grasse, France – a town on the French Riviera that is world-renowned for being the perfume capital of the world.
Boity Pink Sapphire (R1495 for 100ml) will be sold exclusively on www.haloheritage.com and is available for purchase from 11 September 2020.
Follow them on: