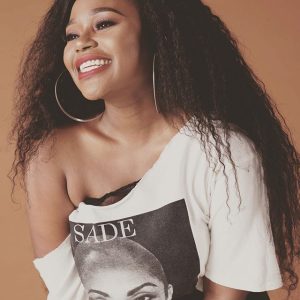 At 33, Pearl Shongwe has built her brand into a renowned and respectable one in the broadcasting field. She shares where her passion began and her success tips. 
Metro FM's Pearl Shongwe has added to her impressive broadcasting CV a stint as the host of SABC 1's popular youth talk show Daily Thetha. She shares where it all began and her success tips:
Take us back to your childhood, what sparked your interest in and passion for a career in broadcasting?
It was a calling for me – there was no particular moment that made me realise my path.  From as early as eight years old, I was very clear on what I was going to become and I knew it would happen.  I just had not anticipated how difficult it was going to be.
Share with us how you got into your first career at YFM, and what lessons did you learn there that helped you in your career?
I won a competition! YFM was looking for an entertainment reporter for their then breakfast show "Flava in Da Morning" with Mo Flava – this was in 2009.  Upon seeing this online, I wrote a script and self-taped from my phone!  I was surprised by how great I thought it sounded, then a gentleman called Adam Lomas helped me to record a professional demo that I emailed through.  Competition was fierce but so was I. I was chosen based on public votes.
YFM taught me that this industry is serious business.  It needs to be respected – it is also fun but it's like any other profession.  Approach it with love and respect.
What misconceptions do you think people have about your career, especially news anchoring?
There are plenty of misconceptions!  But I think some very common ones are that newsreaders lack personality, that if you work on TV/radio you're rich, that aesthetics and not hard work will land you the job, and that it's glamorous!
What have been some of the highlights and challenges of your career?
Highlights:
My first Soweto Derby in 2014 – I was working as a field presenter for SABC Sport.
Being part of the team that worked on the Mama Winnie Mandela send-off (funeral) broadcast on the SABC News Channel.
Being part of the broadcast team for the 2016 local government elections on the SABC News Channel.
Being hired on Morning Live – It was a dream come true!
My first sign-off as a newsreader on Metro FM.  It was an out-of-body experience. I'd practiced my sign-off since I was 13 and it was inspired by former newsreader Khumbuzile Mazibuko who read on Kaya FM breakfast many years ago.  If anyone knows her, please tell her I'd love to meet her so I thank her for being my inspiration.
My first season with Africa's most impactful youth leadership show One Day Leader on SABC 1.  I've had an incredible four years on that show.
Being the current voice over artist for the Powerball draw shows.
Every opportunity I get is a highlight for me!  I immerse myself fully in my work. I love what I do and I'm still as passionate as I was when I first started.
Challenges:
Consistency (this is a good challenge because it keeps you on your toes).
Being undervalued as a talent and therefore being overlooked for certain work opportunities.  It happens to more people than it should.
There's also a lot of pressure with being thrust into the spotlight.
Apart from broadcasting, what keeps you busy?
I run a boutique media solutions agency called Lolonga Media.  We offer public relations, production and conferencing services.
I'm also one of the busiest female voice over artists.  I have a great stream of work in that space.  My voice is in more adverts and shows than I can count.
What is your definition of success and do you feel you have achieved it?
It is doing the small things daily that get you closer to the goals you've set for yourself.  Success for me is measured by fulfilment.  It is also being at peace and being satisfied with what you're contributing to life itself and in your work.  I have reached success many times but I do not view it as a destination –  it's simply an ongoing journey that is meant to teach us, so I'm still open to success by learning, not being afraid of failing, and teaching – doing all I can to rise above myself. The accumulation of material things in itself is not success, it's simply having the means to make life slightly easier for yourself.
Describe your busiest day
Wake up at 3:40AM
Leave home at 4:25AM
05:00 – 09:00AM Metro FM #TheMorningFlava
10:00 – 15H00 is usually for voice bookings, speaking engagements or home office
I take regular hour naps as often as I can at around 16:00PM.
Tell us about joining Daily Thetha, how did the opportunity come about and what can viewers expect from you?
I auditioned between Dec and Jan 2020, with call-backs.
Bringing my authentic self is what viewers can expect.  I enjoy the show's content and I look forward to making a valuable contribution in how we unpack the shows.  I'm quite a dynamic, youthful person, curious person and a thinker!  The show is already a strong brand and I hope to build on to that as a broadcaster.  It's a fantastic growth opportunity because I've never done talk TV.
Since we are celebrating Women's Month, how have women helped your journey to success, can you name some of them and the role they played?
There are plenty of women who have played a key role in my rise.  I love and respect them. I give credit to:
Althea Jarvis – a commissioning editor.  She offered me my first contract as a voice over artist at the public broadcaster for a children's sports show.  It was a great stepping stone and I used that opportunity to knock on other doors.  This was over 10 years ago.  She has taught me the value of integrity and I rely on her honesty and encouragement.
Elizabeth Molefe – Worked at SABC Sport and has since retired.  Mom Toto wiped a lot of my tears in the early days of my career.  She always had kind words of encouragement for me.  She kept me going and reminded me of my mother's touch.
Sibongile Mtyali – Metro FM's station manager.  She believes in me and I would often wonder what makes her think that I am so great.  I've only worked under her leadership for four years and she has continued to be a strong force in my professional life.  When I lost my dad in 2018, she stepped up as a leader and sister.  I count her amongst the people I want to make proud.
Dureen Ntsele – executive producer at SABC News.  Known as Shado, she has been my pillar and someone that I will always cherish.  After auditioning twice for Morning Live, she gave me an opportunity when it wasn't popular to do so.  She is strong-willed, very mature as a woman, her experience and love for what she does continues to inspire me.  She is a great teacher and my work mom.  There are no words to describe my love and respect for her.
What other career or business goals do you plan to tick off?
I'm a broadcaster through and through and I would love to continue working in this industry and to expand my territory outside the borders of South Africa.  Believe it or not, but I would love to do some on-screen acting again (I had short acting stints right at the beginning of my career). With Lolonga Media, I want to explore my content ideas and start pitching my own shows – I see that happening sooner rather than later.  I am also big on property investment and development.  I've always thought it would be so cool to own 20 properties by 40.  I have no idea how I'm going to achieve that, but I'm willing to put it out there into the universe and of course work hard to reach that.
Lastly, what are your success tips for young people?
Hard work has been my secret and it may be the long way 'round' because it's so much harder and slower! But it's worth it! I see a lot of young people who seek overnight success – there is no such thing, in fact, forget about that – no successful person has ever made it overnight!  Bonang Matheba said it best when she said "overnight success is years and years in the making".