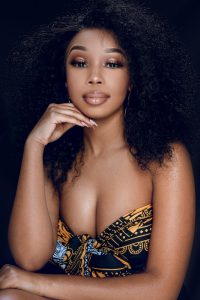 Actress and businesswoman Candice Modiselle tells us about portraying the new YouTube comedy animation series, Coconut Confidential, which parodies Lindiwe Suttle Mueller-Westernhagen's  American high school life in the 1990s. 
Tell us about the new YouTube comedy animation Coconut Confidential, why did you want to be part of it and what attracted you to your character, Lindi?
I'm such a fan of content that reflects the black experience in a unique way, and Coconut Confidential does exactly that. Created by award-winning screenwriter, Lindiwe Suttle Mueller-Westernhagen, this comedy animation series parodies her very American high school life in the 1990s. To be part of this project has been nothing shy of an honour. It's stretched my range as a performer by embodying her life through the medium of voice acting (in an American accent might I add), I've had the pleasure of collaborating with a number of exceptionally talented African creatives and leading the story has been such a rewarding experience.
How are you similar to Lindi, and how are you different from her?
Lindi and I are more similar than we are different. Though I wasn't raised in Georgia, America, I've had to adapt to a schooling system and environment that was saturated with white people. I blended right in, adopted the western way of life, "talked white", consumed more Eurocentric content and was surrounded by a culture that wasn't uniquely mine, thus diluting the essence of my blackness. You end up growing up with this tug-of-war on the journey of cementing your identity, something most "coconuts" can relate to.
What attracted you to the entertainment and media space and what impact would you like to make through your craft?
I always say that I didn't choose this industry, this industry chose me. From small school plays to gracing global platforms, nothing else made more sense than the world of storytelling. I can only hope that my commitment to the craft resonates with more young people and inspires them to not only own their narrative but to create spaces where we can celebrate our diverse culture through the art of capturing our stories.
READ MORE: My Journey To Success With Candice Modiselle
The pandemic has affected many industries, especially the entertainment industry, how have you remained afloat in your career, and especially on a personal level?
I ground myself in my authenticity. I've never had to create an impression of being someone I'm not, living a lifestyle that isn't true to me, or having to rely on gimmicks. I'm privileged to say that this season has highlighted that for me. That though yes, the world may be on pause for the most part, I've kept moving and growing holistically. I've invested a lot of time and effort in my healing, self-nurturing and overall self-care. Fortunately, I've also been able to commit more time to projects of my own that I'd abandoned due to other work obligations. This has been my season to exhale and I'm blessed.
Tell us about your media company, Busetsa Media, what services does it offer and what legacy do you want to leave behind through it?
I'm still in the process of finding the true identity of Busetsa Media, however, I'm driven by my passion to re-write the narrative for young black South Africans. To re-imagine a world of opportunity for them, through access to information, skills development, vocational training and character building. Our youth lack the necessary tools that should equip them for adulthood and I want to provide these tools. Whether it be through storytelling, mentorship programmes, roadshows, incubators, dialogues, platforms, I'll be content in knowing that this is the legacy Busetsa has the potential to leave behind.
How do you define success and do you feel you have achieved it?
I don't necessarily believe success is a destination that you reach. My impact, the legacy I speak of and the number of lives I've been able to transform, is where true success lies for me. How I was able to submit myself as a vessel, to being of service as God has willed for me.
What are your success tips for young people, especially during this time?
I'm always careful to not advise from a point of privilege or ableism. I do, however, believe in the importance of envisioning the future you want for yourself and using everyday as an opportunity to attain all that your heart desires. Focus on what serves you, nurtures your growth and contributes to your better self. Have a teachable spirit and ask questions. Worry less about looking successful and work towards being it. Surround yourself with people that fuel your passion, not dim your light. It's okay to start over, to be doubtful- you won't always be right, but it's better to try, fail and learn than not try at all.
Set to be released end of 2020 on YouTube, the comedy animation web series, Coconut Confidential, is the latest project by Lindiwe Suttle Mueller-Westernhagen. A coming-of-age, animated web series that tells the bittersweet, funny, and hopeful story of an awkward teen struggling to understand the complexity of interracial friendships. Inspired by Mueller-Westernhagen's life growing up as a shy teenager in the 1990s, in a white suburb of Georgia, US. The lead character, Lindi (voiced by Candice Modiselle) has always felt like a social outsider: When her best Black friend moves back, she sets out to win back the friendship of her Black girlfriend. But rekindling their friendship won't be easy as both have moved in different racial social circles. Narrated by Lindi now an adult (voiced by Kim Engelbrecht), she recounts the good, the bad, the exciting, the irrational, the foolishness, the mischief, and all the misguided decisions she made as a teenager. Coconut Confidential is a bittersweet, funny, and hopeful comedy series, both a nostalgic time capsule and an ode to growing up.
Coconut Confidential trailer premiered on YouTube on Sunday 9 August at 8pm.
For more, follow @coconutconfidential