Zozibini Tunzi will return to South Africa for her official homecoming celebration this Saturday. Here is a list of her itinerary during her week-long visit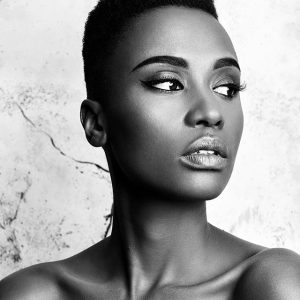 Tunzi's arrival at OR Tambo – which members of the public are encouraged to attend from 07h00 on Saturday – includes a performance by the Soweto Gospel Choir and welcomes from the Minister of Communications and Telecommunications Stella Ndabeni-Abrahams and the Deputy Minister of Arts and Culture, Makhotso Sotyu. Also present will be current Miss South Africa Sasha-Lee Olivier who assumed the mantle when Tunzi took the Miss Universe crown.
The next leg of her tour is, according to Zozi, the most special part of her trip – she will return to the place of her birth, Tsolo, the little Eastern Cape town close to Mthatha to meet "my home people who are also my most ardent fans".
Tunzi will arrive at her village on Saturday afternoon on a colourful float, draped in the colours of the South African flag. It has been made to resemble both the Miss Universe crown as well as the ribboned dress she wore as part of her Miss Universe national costume.
Tunzi will unveil a mural that has been made in her honour on Sunday (February 9) before attending a lunch at which she will be entertained with traditional dancing.
On Monday, February 10, Tunzi, accompanied by her mother Philiswa Nadapu, will visit her primary school, Canaan Academy, in Dutywa. Many of her former Grade 1 and 2 classmates will be on hand to welcome her.
On Thursday morning, February 13, Tunzi will ride in an open-topped bus through the streets of Johannesburg (route to be announced), and later that afternoon she will fly to Cape Town where she will be the personal guest of President Cyril Ramaphosa as he gives his State of the Nation Address in Parliament.
READ MORE: 15 Things You Didn't Know About Miss Universe 2019 Zozibini Tunzi
The following day (Friday, February 14), it will be the turn of Cape Town residents to see Tunzi as she makes her way through the city in a street parade (route to be announced).
Well-wishers who want to personally welcome Zozi home on Saturday morning will be able to travel, free of charge, on the Gautrain to the airport from Pretoria, Midrand, Marlboro and Park stations. To gain access to the OR Tambo bound train, passengers will have to say: "Gautrain took me there" to gain access.
"I can't wait to feel the energy when I get back. This win hasn't just been about me; I share it with all South Africans and I have been counting the days until I can celebrate this achievement with my people in the spirit of Mzansi," Tunzi told KDanielles Media, "While I have been in New York, I have longed for two things: sunshine and the voices of African people raised in song. I cannot wait to be a part of the celebration – Eastern Cape style – that is being planned."
We cannot wait to meet you, queen.