It's been three years since Paxton was crowned a super star in Idols, the youngest winner in the show. She chats to us about her career and the summer yama 2000 campaign
Take us back to your childhood, what drew you to music and make you decide to take it as a career?
I've always loved to sing ever since I was little, I would always partake in karaokes with my family and even do little performances outside my house with my friends. I come from a very musical family so my love for music definitely stems from there and my heart's desire was always to sing and entertain people.
 Why did you join Idols? Was your family not worried that you were young then?
.My mom and my friends at school were the main reasons why I decided to take that risk. I was always a shy kid so being on a huge stage singing for millions of people never even crossed my mind however, since I reached high school my mom has been eager for me to enter competitions and I always felt that I wasn't ready. The year 2017 was a year of taking risks and trying new experiences for me and that audition was one of those risks!
 Share with us the process behind making songs, what inspires you?
When me and my team get together and create music, our inspiration usually comes from everyday life and what people can relate to. For me it is important that people can relate to what I write and enjoy my music. I also want my music to inspire people and give them a different outlook on things. I try and stay true to myself when it comes to my music and always try to be as real and raw as I can. I find that people connect more to what is real and heartfelt.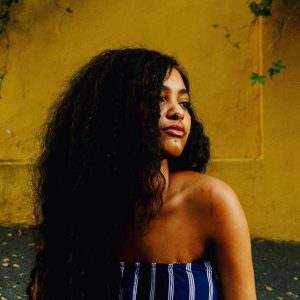 Your latest single, No Distractions, was penned by you, who did you target when writing the song and what message did you want people to take from it?
When I was working on my single No distractions,I wasn't really speaking to/about anyone specific. The message that I was trying to translate was that if anyone doesn't contribute to your life in any way, they don't deserve to be a distraction and sometimes we could be our own distractions. To stay focused on what's important and focus on people who genuinely contribute to our happiness and well-being, while striving to be the best versions of ourselves without unnecessary things/people holding us back. We deserve nothing but the best, who needs negative energy in 2020 or at all for that matter?
Why did you decide to partner up with Coca-Cola's summer yama 200 campaign, and what exactly is your role in it?
My role was to raise awareness about the campaign and bring the youth together in a positive and fun way!I decided to partner up with Coca-Cola for this campaign because it brought teenagers  all around South Africa together by doing one simple thing, sharing a Coke! They could use their social media platforms to get involved in the campaign and be a part of it and there were activations all over SA where they could network and have fun in a safe environment. It was such a fun campaign to do and I would definitely do it again!
 How do you define success and do you feel you have achieved it?
It's like what Tony Robbins says, "Success is hitting an expectation, but we should trade our expectations for appreciation and it could change everything. Success without fulfillment is the ultimate failure."
Yes, I have been successful but I'm not content and I won't settle for where I am right now in any aspect of my life. I know that God has bigger and better plans for my life and I'm willing to put in the work so that God can use me as a vessel to change lives.
 Apart from music, what keeps you busy?
Music is my main focus, but I would like to venture into different industries as there are so many other things I'm passionate about. I have also been doing anti-bullying campaigns at schools in the Western Cape.
Who, locally and internationally, would you like to work with and why?
I would love to work with Samthing Soweto, Jay Something, Black Coffee or Rihanna. They are such versatile artists and will challenge me as an artist. I can learn a lot from them when it comes to the business side of things, and they are truly authentic and true to themselves as artists and individuals.
   What are your success tips to young people?
I live by this quote that says "future belongs to those who believe in the beauty of their dreams" and to me that means everyone can be dreamers but it's up to us to make our dreams become our reality. There is no limit to what we're capable of doing, we are our only limit! Nothing but love and appreciation to everyone who has supported me throughout this journey.