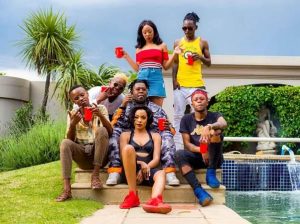 Your feel-good MC, BigStar Johnson, has us in a total summer mood with his new single Two Cups featuring award-winning rapper, Rouge.
BigStar Johnson dropped the visuals to Two Cups yesterday with a Trace TV exclusive on Trace Urban and Trace Africa. The music video is now live on YouTube. 
READ MORE: My Journey To Success with Rogue
BigStar Johnson's Two Cups featuring Rouge comes off his highly anticipated debut album Me & Mines which took the number #1 spot on the iTunes Pre-Order Bestsellers List leading up to its release and debuted at number #1 on iTunes the day it came out.
Two Cups takes us back to the nineties with its nostalgia feel and follows his Sgubu single featuring multi-award-winning musician Kwesta, which also had a nostalgic sound to it.
READ MORE: My Journey To Success With Kwesta
BigStar Johnson's Me & Mines is available on all major digital platforms globally here: https://warnermusicsa.lnk.to/Steezy
The Two Cups music video shows BigStar Johnson in his element having fun with his friends and the feel-good element of the video is contagious.
Follow BigStar Johnson on social media for BTS of the Two Cups music video and make sure to watch it on YouTube
Connect with Big Star:
Facebook: Big Star Live (https://www.facebook.com/BigStarJohnsonLive)
Twitter: @BigStar_Live
Instagram: @BigStar_Live
YouTube: https://youtu.be/8FDtPM39dLo