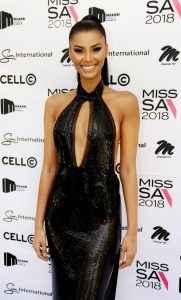 24-year-old medical student and Miss South Africa 2018 reveals some of her pageant outfits and message to the youth as she prepares to compete for the Miss Universe title.
Miss South Africa Tamaryn Green revealed two of her pageant outfits today – including her breath-taking official national costume which pays homage to the Blue Crane – as she prepares to compete in the Miss Universe competition.
She chats to KDanielles Media ahead of the Miss Universe pageant:
Do you feel any pressure on representing South Africa at the Miss Universe stage? Considering that your predecessor, Demi-Leigh Nel Peters is currently holding the title?
Winning Miss South Africa is already a big responsibility. You are representing your country, but I have learned so much about it through my title. It helped me evolve and I believe I am in a better position to represent my country for what it is. To be honest, I am more excited than nervous because I will get to show the world what South African women are made of and how strong and beautiful we are.
What I love about South Africa is that we are resilient as a nation, especially pertaining to the challenges we've overcome, is there a particular narrative you will share to the global stage about who we are as a nation?
I feel like you've just summed it up. The narrative is how strong and resilient we are; South Africa has been through a lot, especially when it comes to our past and the social issues we are facing. Still, we always overcome every crisis we face and that's what I will share with the rest of the world.
Who and what do you credit with your milestone and your achievements?
Firstly, I credit God Almighty because who I am and the path I have taken has been laid out for me by the higher power; I have faith that He will be with me throughout my journey. I also credit my family. My parents raised me to be the woman that I am today. Also, I am thankful for every experience I have had, whether positive or negative because it made me this strong woman that I am today.
READ MORE: Thulisa Keyi Is Ready To Represent SA On Miss World Stage
Miss Universe 2018 takes place on Monday, December 17, in Bangkok in Thailand and South Africans are hoping for a consecutive win as reigning Miss Universe Demi-Leigh Nel-Peters of South Africa will crown her successor at the end of the event.
Miss Universe is known for only one "double win" in its history – Venezuela's Dayana Mendoza and Stefanía Fernández took the crown consecutively in 2008 and 2009.
Suzette van der Merwe, on behalf of the Miss South Africa Organisation, announced that South Africa is currently the top pageant country in the world based on wins and finalists in the Top 10.
The 67th edition of the pageant features contestants from 95 countries, surpassing the previous record of 92 contestants in 2017, and is watched by millions of people around the globe.
Green was crowned Miss South Africa 2018 in May this year. At the time of winning the title, she was a sixth and final year medical student at the University of Cape Town with her sights set on specialising in paediatrics once she qualifies.
Green will continue to promote her #BreakTheStigma at Miss Universe: "The campaign has been very successful so far at raising awareness around TB. I travelled to New York in September to speak at the first-ever UN General Assembly high-level meeting on tuberculosis and was also invited to speak at the Union Conference on Lung Disease at The Hague. Talking about my story and my battle with TB has encouraged so many to speak up about theirs."
Green's national costume, which she revealed at her farewell, was designed by Malikah Hajee and Lloyd Kandlin and their team at The Costume Department, while Galluzzi e Gini has designed a number of her outfits including the farewell gown.
Image source: Yolanda_van_der_Stoep