Inspired by his passion for cakes and the Cake Boss show, Gugu The Baker has been hard at work making every occasion special with his cakes. He shares how it all began and his success tips.
Give us a glimpse into your childhood, what were your career aspirations growing up?
I grew up in Ulundi, north of Kwa-Zulu Natal, which is a semi-rural small town. You can already imagine the limitation to exposure to a lot of things, particularly the various careers available out there. So I grew up with your normal boy-child aspirations … "I wanna be a policeman, I want to be a soccer player (even though I sucked completely at it)"
I soon realised, however, that I was more of an indoor person, and was really fascinated with craftwork! So I would always try out new things with the few resources that were at my disposal… I learned how to sculpt using papier-mâché; I also made gift boxes using old boxes … and a lot more craftworks.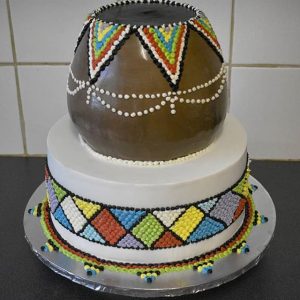 What sparked your passion for and how did you discover your talent for baking?
Only when I was in Grade 12 did I discover/ admit my long-time suppressed passion for food. And that was merely because of the society I grew up in where being a chef wasn't particularly considered a career. You only did Hospitality because you failed your Matric. However, now the struggle was to figure out a career that would incorporate both my craftsmanship and passion for food.
Journey us into how and when you started your business, Gugu The Baker
After completing Matric I went to study at the University of Kwa-Zulu Natal (PMB Campus). I was only there for two months and then deregistered because I realised that I was not fond of the degree I was doing, and doing it would be a waste of my three years that could have been best spent developing and advancing my true passion. So I left and did a Hospitality course at Amajuba TVET College… again I decided to drop out after 6 months. It was in line with what I wanted, yes, but it was more theory based and had little practical learning. After that, I had discovered cake decorating, and grew very fond of it after knowing about Cake Boss and seeing his amazing work. So I went and did a 6 months Pastry course at The International Hotel School.
As part of my training, I worked at the Southern Sun: Elangeni and Maharani Towers and also at the Durban ICC. I met a few chefs there with whom we shared a passion for cake decorating and they inspired me a lot and some even helped me kick-start my journey as a cake decorator.
After my training, I went back to Ulundi (my hometown) and that is where I started my business. I started off selling 20L Buckets of cupcakes until one client trusted me with a baby shower cake. Since then, I have even had to stop selling buckets because of the specialty cakes orders.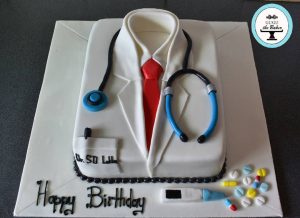 Share with us some of the challenges and highlights of your experience thus far
The greatest challenge, like with many start-ups, has been finances. Not just funding, but also the ability to budget, use finances properly and the knowledge of pricing correctly. I still struggle a bit with that, but I'm getting there. The highlight of my business experience so far would have to be the amazing support I've received from all my followers. Not only those that actually buy from me, but also the referrals and the way they cheer me on for every little progress I've been blessed with! It always humbles me when I think about it.
How would you define success and what do you feel you need to tick off to reach it?
Success for me is being happy with whatever you have done. And that takes a great amount of honesty with one's self! If we depend on the applause to believe we have done a good job, then I fear that we will be crushed easily by negative feedbacks and comments (which in some cases might be mere hatred). Hence when I say it requires a great deal of honesty to be successful, you know exactly what they are saying before you receive feedback… and then you either keep at it or learn from it.
Share with us your short term and long term goals
My short-term goal is to get a bigger working space where I can hire more passionate young people as myself to help me grow and expand the reach of my services and uphold the standards which I have set, particularly the excellent quality of every service rendered. Long term goal is to have cafes, kiosks and thousands of cake shops all over the world where people can get to enjoy our creations and treats. In so doing, also creating thousands of jobs and a very strong and established legacy for my future generations.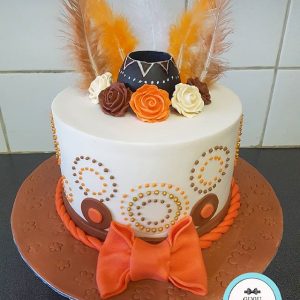 What fail-proof measures have you taken to get your business this far?
I have gotten my business this far through faith in God, persistence and excellence in all that I do. People are always able to see a product or service that was rendered with an intention to excel. And they appreciate that, and are always willing to support you again and again until you get it right! And that is basically how I operate… I excel.
Describe your busiest day
There isn't one particular busy day, and there isn't much that goes on during the day except for the ridiculously long hours spent on just decorating cakes. Sometimes I work 20hr+ a day for three consecutive days. But I try and divide my work by collection days and then I also have days where I do a bit of admin work for small things and also restock for the week.
How big is your team and how is your leadership style?
Currently, I only work with my sister, who does the baking of the cakes and then I decorate. So I have not yet been exposed to any leadership role outside my family circle.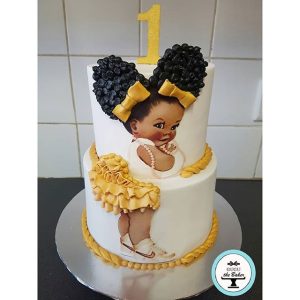 What are your success tips to young people, especially those considering starting a business?
My advice to young people would firstly be to be honest about their passions! Do what you are insanely passionate about; you'll need that when the going gets tough! Secondly, start where you are and with what you have! You do not need investments and great resources; you need discipline, commitment, a positive mindset, and go-getter spirit. Sometimes it will take selling sweets in the street to save up for that machinery you need to get your business started, so you do what you have to do to get what you want! Thirdly, have faith! Life is a gamble, and only those who dare to take risks discover the riches buried behind doubts and fear! Lastly, excel in all you do. Be honest in your failures and give yourself a pat on the back when you have done well!
To make orders or to connect with Gugu, follow him on:
Facebook: https://www.facebook.com/GuguTheBaker/
Instagram: https://www.instagram.com/gugu_the_baker/