2015 Idols SA winner, Karabo Mogane is back with his new single, Nginothando. He shares some of the lessons he learned in the music industry, as well as his success tips
Give us a glimpse into your childhood, what sparked your love for music and how did you identify your vocal talent?
I had a great time, growing up. I have always loved entertaining and performing in front of people who came to my home all the time since childhood.
What lessons have you learned about the music industry since winning Idols?
What I have learned is that nothing just happens, a lot of work has to go in to whatever it is that you are doing. Sometimes we look at the artits flourishing and not the amount of work that they put in their craft. I now understand what being an artist means and what's required for one to get to a point where they can succeed. I have also learned the importance of supporting one another as artists.
Share some of the misconceptions you feel people still have about your industry
Some misconceptions are that everybody will like you as an artist, unfortunately not everyone will like what you are doing nor the music that you are producing, but that doesn't mean you should stop what you are doing, as long as you put your best foot forward. The other misconception is that people think that success is an overnight thing, it's not, it's a process, a lot of sleepless nights, planning and hard work goes into creating a superstar.
Tell us about your new single, Nginothando, what inspired it?
The single was inspired by my personal life. I wanted to write a song for people that are in love and who want to fall in love. The song is to inspire people who believe in love and to cement my belief that with love we can do all things.
How would you define success?
Success means being able to reach that goal you have in mind. Being successful also means being able to support and help people around you to be as successful as you are. One person once said to me that as black people it's easy to share things like alcohol but never share opportunities, which is sad. So I think it's important to change that mindset.
What is the best career advice you have received that you still apply to your career today?
The best advice I have received is that you should believe in what you are doing because it's easy to stand confidently and sell it to the next person.
If you are not making music and performing, what keeps you busy?
If I am not making music I am definitely spending time with my family and reading. I love doing outdoor activities and traveling as well. I also spend time at church to thank God for the success he has granted me.
Please share your career plans for the rest of 2018
My plans are to finish off my second album and to push my single, Nginothando. I also want to establish myself to be the artist that many people see me to be, by doing more shows and performing all over Africa and overseas.
What are your success tips to young people?
My success tips are: be yourself, stay true to who you are. Don't try to change to accommodate the next person. Pray for your gift and for your plans. Work hard and be consistent in following your dreams. Importantly, believe in yourself and in what you are doing.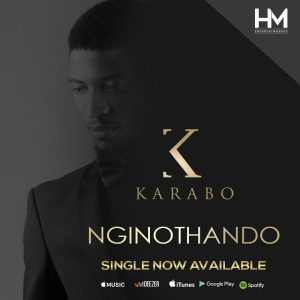 Check out Karabo's single on:
Itunes: http://itunes.apple.com/album/id1412725404?ls=1&app=itunes
Deezer: https://www.deezer.com/album/68403731?utm_source=deezer&utm_content=album-68403731&utm_term=2224397944_1531838382&utm_medium=web
Google Music: https://play.google.com/music/m/Beo6sl4kmfqa7d4tik7wtheziwy?t=Nginothando_-_Karabo
Spotify: https://open.spotify.com/album/3fbRxfA9CwuIzKQ5hQxl9K
Tidal : https://tidal.com/album/92078099
Follow him on:
Facebook: Karabo Mogane
Instagram: @moganekarabo
Twitter: @moganekarabo