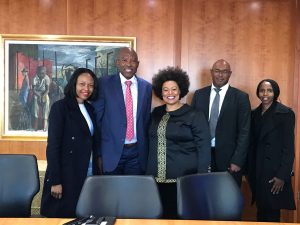 33-year-old award winning businesswoman, Nthabeleng Likotsi is set to become the first black female owner of a bank in South Africa.
Nthabeleng is the founder and executive chairperson of Young Women in Business Network Holdings which has two other subsidiaries. She holds a Masters in Entrepreneurship from Wits Business School and a post graduate Certificate in Accounting from the University of Johannesburg, a Certificate in Entrepreneurship from the Centre of Entrepreneurship at Wits Business School (WBS). Ms. Likotsi serves on boards of several companies as an Independent Non-Executive Director on companies such as Cobra, Vaal, Libra, WHS, Apex Valves and Ubuntu Plastics and is the youngest woman Independent Executive director on JSE Listed companies through Bonatla Ltd. She shares her inspirational story:
What inspired you to start Young Women in Business Network (YWBN)?
After extensive research, I figured that stokvels in our townships contributed billions to the economy. I wanted to create something black wealth. So in 2009, I established the YWBN – as a broad-based women's empowerment financial company, along with nine other board members.
Why the decision to transform YWBN into a bank and share with us the process?
I wanted to turn this financial empowerment company into the first black female-owned Mutual Bank in South Africa because I have always had the passion to create black wealth, and I believe that this can only happen if there is a bank that deeply understands black entrepreneurs and customers, as we've also travelled this journey to empower black women for almost ten years. There is a lot of preparation that goes into getting a license to run a mutual bank. The requirement is that you should have between R10 to R15-million, just for the application excluding the capital expenditure, operational costs, among others. But we have no room for negativity because all I want to success, not only for myself but for other black people, especially women, in South Africa.
How would you describe yourself?
I believe that I am an innovative self-starter, assertive and tenacious team player dedicated to the economic freedom of young women.
What have been some of your highlights?
Being recognised for the work that we do, like being presented with the 2013/2014 'Women Leadership Award' at the 3rd Africa – India Partnership Summit in Mauritius in November 2013, as well as being part of a three-week International Visitors Leadership Programme – Women and Entrepreneurship hosted by the Department of State in the United States of America in 2014 and the Women in Business seminar in Kusnatcht ZH, Switzerland.
KDanielles Media wishes YWBN success on their journey to becoming the first black female owned bank!
For more information visit their website: