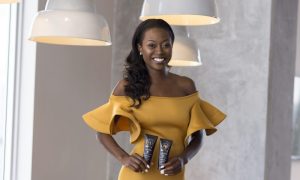 The MBA graduate and New York-raised entrepreneur saw a need for women with dark skin tones to have sunscreen protection without the white residue. She shares her journey and her success tips.
Give us a glimpse into your childhood, what were your career dreams?
As a child, I was a second chair violinist who loved to play with Barbie dolls. When I was 12 years old in sixth grade, I wanted to be the President of the United States of America.
Your entrepreneurship journey as the founder of Black Girl Sunscreen was sparked by your love for the outdoors and traditional sunscreens that often leaves white residues on dark skin tones, share how the process was from conceptualization of the sunscreen to placing it to the market.
As an avid hiker, beachgoer and outdoor yoga enthusiast, I wanted to enjoy these pursuits while protecting my skin. Black Girl Sunscreen was born from a need for a product that offered broad-spectrum sun protection and blended beautifully with dark skin tones—instead of leaving a white residue. Underwhelmed by the lack of products on the market for people of colour, I knew there had to be something that could work. And I knew that if I could figure out how to make it happen, it'd be a game changer. With this motivation, I started looking for a solution and discovered that there were natural ingredients that could boost melanin production, offer proper UV protection and be fully absorbed by our skin; hence, the evolution of Black Girl Sunscreen.
What challenges and mistakes did you experience in creating the sunscreen?
One of the biggest challenges has been dispelling the myth that people of colour don't need skin care protection. The number one mistake women of colour make is simply not using sunscreen. 59% of women know they should wear sunscreen regularly yet only 30% do. However, people of colour are at risk of skin damage despite the presence of melanin. Research shows African Americans have the highest rate of mortality in the U.S. population after receiving a melanoma diagnosis. These statistics can't be ignored.
 How has the market received the product and where do you distribute it to?
Black Girl Sunscreen has been surrounded by love and positivity. We are so appreciative for all of our customers and collaborators. It has been an honour spreading our message through radio, podcasts, social media and trade shows (as a presenter and vendor). You can purchase our product at BlackGirlSunscreen.com and follow us with the Black Girl Sunscreen handle on Instagram, Facebook, Twitter and YouTube.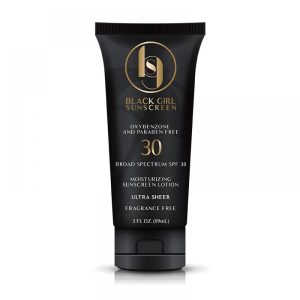 Share why you named the product Black Girl Sunscreen?
I am my own customer. The name Black Girl Sunscreen is intentional because I want other women of colour to know that this product is for them.
What are some of the highlights you have experienced thus far?
At Black Girl Sunscreen, we celebrate all wins, big or small. One of our biggest wins early on was becoming FDA approved. Black Girl Sunscreen is oxybenzone, paraben, and fragrance-free, therefore, being safe for the environment and skin. We are also proud to mention that we have been recognized by several media publications as being the #1 sunscreen for women of colour.
Do you have a mentor? What is your take on the role of mentors in one's journey to success?
Unfortunately, not. However, Black Girl Sunscreen has given me the ability to form new relationships in the industry with women of great knowledge and expertise. I also love to follow podcasts and listen to motivational speakers. I think mentorship is great; however, it's like dating someone. You have find the right match.
Describe your busiest day
Because I love what I do I don't feel "busy" but as an entrepreneur, there is always something that has to be done that will consume your time.
How would you define success and have you reached it?
Success is measured differently by everyone. To me, it is happiness and I found something I love to do. So, I feel successful in finding my passion but this journey is never-ending. Black Girl Sunscreen won't stop until we've created awareness globally around people of colour protecting their skin from the sun. We will create a legacy that will influence future generations to be skin conscious and dispel stereotypes related to people of colour and sun protection.
 What are your success tips to up and coming business people?
Follow your passion. You have to get out there and do it because no one else will do it for you!
Follow Black Girl Sun Screen on:
Instagram: @blackgirlsunscreen
Twitter: @BlkGrlSunscreen
Image source: voyagemia.com