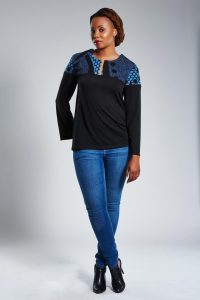 30-year-old fashion designer, Thabo Makhetha shares her mission to instill African pride through her fashion label and her success tips
Born in Lesotho, Thabo Makhetha has always been creative and wanted to build a career in that space. She shares, "My grandmother, who passed away when I was three-years-old, and mother were also very good a sewing; so I guess it runs in the family. I remember this beautiful Alice in Wonderland outfit that my mom made for me when I was little and it was one of my favourite dresses ever. I spent most of my childhood moving to different parts of South Africa with my family, from Mahikeng to Cape Town. During that period I had realised that when most people move from their homes they get lost in the city. I wanted to hold on to my Sesotho heritage because I believe that there is more to us as Africans than what we are made to believe and I wanted to use fashion to spread this message. The sad truth is that when international brands use African heritage they sell out and these are the things we have to change by creating patriotism through African brands.
My parents supported my passion for the arts and encouraged me to do fashion. I studied fashion design and after varsity in 2008, I tried to get work in Europe (without luck) because I wanted to learn from big, international brands. At varsity, I applied for and won for most creative competition, and part of the prize was a double page feature at La Femme, a fashion editorial section of the Herald Newspaper. That gave me a lot of exposure and people started contacting me to design clothes for them. My first clientele was a local choir and that's how my business was born in November 2009.
In 2011 I went to the Durban July and the theme was Royalty. Since I wanted to bring it closer to home I designed a big printed dress from the Ba Sotho blanket, where I took inspiration from Alexander McQueen for a dress he did for Beyoncé in her who run the world music video. My outfit caught the eyes of many people and I even won best dressed with Metro FM. Then, Design Indaba invited me as an emerging creative to present my collection. I must say that it was one of my biggest highlights when the previous editor of Elle Magazine, Jackie Burger wore one of my capes at the Louis Vuitton fashion show in Paris. In 2014 I got the opportunity to showcase my collection at Vancouver, in Canada for their fashion week.
Running a business and building a brand is not easy. Over the years, we've struggled to get into boutiques because a lot of their agents said our line was not going to sell. I also faced the challenge of being a young businesswoman who was undermined by a previous partner who had the experience in the fashion industry that I lacked when I started out. The other challenge was paying salaries at the early stages of the business, as well as finding a dedicated team to work around the clock to help build your vision to reality. But there are highlights I am grateful for, such as having actress Liteboho Molise as our brand ambassador, as well as showcasing our work at different corners of the world, especially at Addis Ababa, at the African Union headquarters to represent South Africa. The world is watching and they want to know more about what we have to offer. I am often asked why I named my fashion label after my name, one of my mentors advised that naming your brand or business after your own name pushes you to take full accountability to whatever happens to it. Besides, many renowned designers like Tom Ford and Alexander McQueen have named their fashion brands after their own name, why not me?
Even though we now have an online platform we leverage on pop-ups and shops like Tintfo le Tinhle in Johannesburg where people get to feel the clothes we create. The biggest reason for starting Thabo Makheta? I want to spread awareness and instill a sense of pride in our African Heritage.
Lastly, my success tips are: Networking and meeting the right people does go a long way in creating a lasting business or career. Also, I believe you are heading towards success when you are a couple of steps ahead than where you were before. You need to map out where you want to go and make an action plan towards it. You have to be accountable to yourself because people are too busy to check up on you. Sometimes you are not going to hit the target, but if you grew from where you were then you are getting there. Importantly, never measure yourself against anyone else because our journeys are different. Get all the help you can get by talking to people and finding the right mentor to help you at a certain stage of your life and business.
For more information visit: https://thabomakhetha.com
Follow them on:
Facebook: http://www.facebook.com/ThaboMakhethaDesigns/
Instagram @tmakcc
Twitter: @TMakCC
Image source: Thabo Makhetha