From mini quiches to a mouth-watering fish dish, impress your family this weekend with these recipes prepared by you and the Lazy Makoti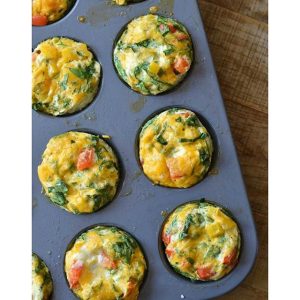 Super easy breakfast, mini quiches.
Ingredients:
6 large eggs
1/2 cup milk
1/2 cup diced tomatoes
Salt and pepper to taste
1/2 cup grated Cheddar Cheese
4 slices Smoked Bacon, cooked crisp and crumbled
1/4 cup spinach, very finely chopped
Method: 
Preheat oven to 180 degrees
In a large bowl whisk the eggs. Stir in the rest of the ingredients.
Grease a metal cupcake tin and pour the mixture into each cup filling it ¾ of the way.
Bake in the oven for 17 minutes or until knife inserted comes out clean.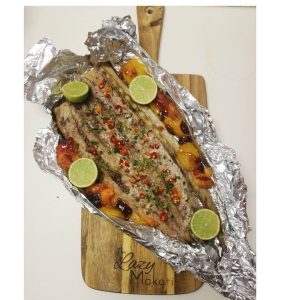 Snoek with nectarines
Ingredients:
1 fresh snoek (about 1 kg) head removed and butterflied
4 tablespoons smooth apricot jam
2 tablespoons chili sauce
1 tablespoon garlic and ginger paste
1 teaspoon spice for fish
1 tablespoon melted butter
Salt and pepper to taste
6 nectarines, halved
Method: 
In a small pan melt butter and mix in the apricot jam, Chilli sauce, garlic and ginger paste and spice for fish. Place snoek (skin down) onto a well-oiled tin foil, brush the jam mixture over the fish.
Season with salt and pepper, close the fish or braai opened on a metal grid over medium coals.
Braai for 25 minutes, turning after 15 minutes. Halfway through, add the nectarines and grill with the fish. The fish flakes easily, so be careful not to overcook it. Garnish with chopped chili
Chicken Dish
Ingredients:
4-6 pieces of chicken
1 onion, chopped.
3 garlic cloves, minced
1/2 red pepper, chopped
1/2 yellow pepper, chopped
1 cup rainbow cherry tomatoes, halved
1 cup mushroom, sliced
1 cup milk
1 cup chicken stock
1 sachet knorr Stroganoff dry cook in sauce
Salt and pepper to taste
Chilli flakes
Method: 
Fry onion and garlic until soft
Add peppers and saute until cooked
Add mushroom and season with Salt and pepper
Add chicken and stock and simmer for 5-10 mins
Pour in the milk and Stroganoff powder and mix well
Cook in the Neo Chef on inventor cook no 2-14 (chicken curry) for 23 Min or in the oven at 180 for 30min.
Stir halfway through and add cherry tomatoes. Serve with basmati rice.
Connect with The Lazy Makoti on:
Facebook: https://www.facebook.com/thelazymakoti/
Instagram: @thelazymakoti
Twitter: @thelazymakoti
Ingredients and images supplied by The Lazy Makoti