Kickstart your morning with this easy and delicious recipe that will fuel your energy for that daily hustle. And what's great about it is that it's healthy
Cara Lisa is one of my favourite health bloggers, whose approach to health is holistic, from physical to mental wellness. Her blog http://www.caralishious.com and vegan ice cream is a delicious haven for the health conscious.  She shares some of her favourite recipes you can enjoy this Friyay!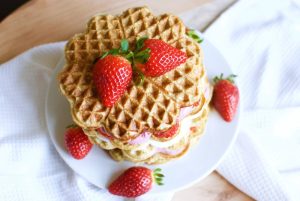 BREAKFAST: 
Low Carb Waffles with Caramelised Banana and Fresh Strawberries:
Makes 1 large waffle | Ready in 15 mins
Ingredients: 
3 egg whites, or 2 egg whites plus 1 whole egg
2 tbsp. almond flour
2 tbsp milk of choice (I used unsweetened almond milk)
1/2 tsp. baking powder
2 tbsp xylitol (or stevia)
Toppings
3 tsp. xylitol
1 banana cut into slices
3 strawberries – cut into slices
Macadamia nut butter
Instructions: 
Step 1:
Whip 2 of the egg whites to stiff peaks. You can either use a hand mixer, an egg beater, or a whisk if you want a workout.
Step 2:
Once you have stiff peaks, stir in the almond flour, milk of choice, baking powder, xylitol, and either 1 whole egg. Heat up your waffle iron to the highest temperature, and grease or spray it with nonstick olive oil/coconut oil spray.
Step 3:
Pour in the batter (You can do it in two batches if you need to.), and cook in the waffle iron until browned, about 3-4 minutes. Remove from waffle iron using a spatula and allow to cool a little before adding toppings.
Step 4:
Place xylitol in a heated pan and allow to melt. Add sliced bananas and cook on medium heat until xylitol starts to caramelize over bananas. Once slightly browned, remove from heat.
Step 5:
Top waffles with generous caramelized banana, generous spoonfuls of macadamia nut butter and freshly sliced strawberries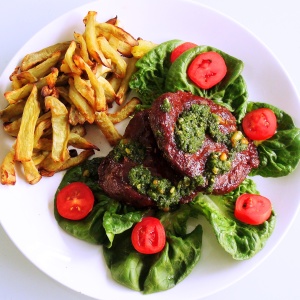 Ostrich Lettuce Cup Burgers with Sweet Potato Fries and Basil Pesto
Lunch: 
Serves 4-6 | Ready in 30 mins
Ingredients:
6 ostrich patties
1 tbsp. extra virgin olive oil
Himalayan pink salt to taste
¼ cup low sodium soy sauce
1\2 ginger root – chopped
½ cup water
2 tsp. xylitol
8 large butter lettuce cups
4 sweet potatoes – cut into thin julienne strips
1 tbsp. extra virgin olive oil
½ cup homemade pesto –see recipe here
Instructions:
Step 1: Prepare Ostrich Marinade
Combine soy sauce, water, sesame oil and xylitol in a small bowl and whisk thoroughly until well combined.
Step 2: Prepare Ostrich Patties
Place ostrich patties on a large baking tray and drizzle with olive oil. Baste each patty with generous amounts of teriyaki marinade. Cover and allow flavor to seep in for 1-2 hours in the fridge.
Step 3: Prep Sweet Potato Fries
Place sweet potato strips on a medium sized baking tray. Drizzle with olive oil and sprinkle with Himalayan salt. Oven bake at 180°C for 20mins until cooked through. Once cooked change oven to grill and allow to brown for 5 minutes until crisp. Remove from heat.
4: Cook Ostrich Patties
While sweet potato fries are cooking, place ostrich patties on warmed braai and grill for 5-6 minutes a side. Once char grilled and fragrant, remove from heat. If you don't have a braai (BBQ) facility, simply oven grill patties for 10 minutes (turning in between).
To serve:
Place washed lettuce cups on a plate. Top with sliced cherry tomatoes, ostrich patty and a generous spoonful of homemade pesto. Serve together with 1 cup sweet potato fries.
DINNER: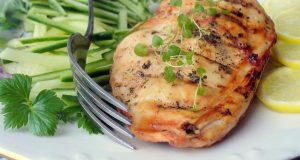 Lemony-Cinnamon Chicken with Honey Mustard Glaze
Ingredients:
6 free-range skinless free-range chicken breasts – Food Lovers Market has a great assortment of free range, organic
chicken
2 tbsp. cinnamon
2 tsp. cayenne pepper
2 tbsp. olive oil
1 tbsp. olive oil to grease oven-proof dish
1 tbsp. raw honey
1 fresh lemon sliced into halves
1 tbsp. wholegrain mustard
2 tsp. Himalayan pink crystal salt
1 tsp. ground black pepper
1 tsp. organic ground ginger
Instructions:
Step 1: 
Place oven on grill
Grease oven-proof dish with olive oil
Step 2:
Prepare Chicken marinade:
Combine olive oil, 1 tsp. cayenne pepper, cinnamon, ginger, raw honey, and wholegrain mustard into a bowl and whisk together until all ingredients are thoroughly combined.
Step 3:
Dip individual chicken breasts into the marinade, coat thoroughly and place on an oven-proof dish.
Baste chicken breasts with remaining marinade
Step 4:
Season with salt and pepper
Add 1 thinly sliced lemon piece to each of the chicken breasts
Sprinkle 1 tsp. cayenne pepper over chicken breasts
Step 5:
Place marinated chicken breasts into oven and grill for 20 minutes until cooked through completely. Turn chicken breasts over at 10 minutes to cook evenly on both sides.
Once cooked remove from oven
Step 6:
Garnish with chopped chives and sprinkled cinnamon
Serving Suggestion:
Serve together with roasted vegetables or a side green salad
What is your favourite healthy dish?
These ingredients are supplied by Cara Lisa on
http://www.caralishious.com/recipes/breakfast/low-carb-waffles-with-caramelized-banana-and-fresh-strawberries
http://www.caralishious.com/recipes/lunch-dinner/lemony-cinnamon-chicken-with-honey-mustard-glaze
http://www.caralishious.com/recipes/lunch-dinner/ostrich-lettuce-burgers-with-sweet-potato-fries-and-basil-pesto
Connect with Cara Lisa on:
Instagram: @caralishious
Twitter: @caralishious