At 23, Sbusiso Maseko is one of the youngest commercial pilots in South Africa. He shares his career in aviation as well as his success tips.
What, from your childhood sparked your interest for aviation?
I was lucky that my mother was in aviation, she was cabin crew. So once in a while I would go on a flight somewhere and the most exciting part wasn't even the destination for me, it was always the flight to and from where we went
Tell us about life after matric, where did you study and how long did your studies take?
Initially I did a cabin crew license. The plan was to get a job that would pay for any pilot studies I'd do. After finishing the cabin crew license I sat at home for three months with no job. I eventually got a call from Mango Airlines after applying to almost every airline in SA and abroad. Around the same time I applied to the SA Express cadet program. I was accepted into the program. I ended up spending a year at Mango Airlines then started the cadet program. I took about a year to finish all the pilot training.
What were some of the challenges you encountered in your job?
The company I work for is on the ball so external factors are usually where the challenges come; like with summer coming up there are usually big thunderstorms that we have to manoeuvre around .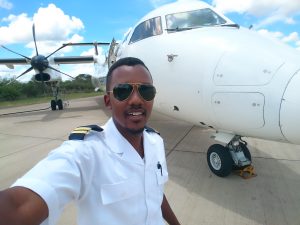 What skills and personality traits best suit your career?
One must be healthy, mentally and physically. They must be able you work in a team, have great communication skills, have great leadership skills and have a good hand and eye coordination.
Describe your day at work?
I get to work 15-20 mins before my sign on time, check the weather, airport information, and aircraft information. I then get a briefing from the Captain about how our day is typically going to look. Go to the aircraft, do an aircraft pre-flight check, sort out paperwork and routings with air traffic control, get passengers. Then we are ready to flying to our destination.
What are your short term and long term goals for your career?
Short term – getting my Airline Transport Pilots License. Long term – flying a faster aircraft
What is the best career advice you have received that you still apply today?
Start each day with the goal in sight. Don't lose focus or get distracted by petty things, always have the final goal in mind.
Apart from aviation, what keeps you busy?
I have a photography company and I am a part time musician.
What do you think are misconceptions that people have about being a pilot?
That becoming a pilot is extremely difficult (in terms of the theoretical studies). Thing is, I'm not going to lie there is a lot of work, but it's like anything else you want, you have to put your mind to it  so you can get it done.
What are your success tips for young people who want to thrive in their careers or businesses?
Do what you love and you'll never work a day in your life (someone's quote)
Connect with Sbusiso on:
Instagram: @thedrumlot
Twitter: @TheDrumLot