We chat to the award winning and talented entertainer who shares his journey to a successful acting career, as well as his success tips to young people.
From playing a hard core criminal to emulating a vivacious gay character it's quite hard to believe that Warren Masemola is reserved and down to earth. The actor who began his career 11 years ago with a theatre production called the Spirit of Gerard Sekoto has gone on to take the entertainment industry by storm. Warren's ability to chameleon into different characters comes from observing the different traits of people during his spare time, especially when he works. "When I am presented with a character to play always give it a fresh approach by detaching who I am to make the character as real as possible," he says. Describing himself as a passionate actor who enjoys the company of like-minded people Warren laments how his fans meet a Warren that is completely different from the characters he plays.
His passion for acting began when his sister encouraged him to take acting despite the fact that he wanted to be an academia and have a guaranteed pay cheque at a corporate company. Then then enrolled for Drama at The Market Theatre Laboratory, majoring in theatre.
"I realised that television could bring more commercial opportunities, so I took extra classes that were not offered in my school," says Masemola, "After completing my studies I knocked on many doors to try different mediums of expressing my passion either than theatre." Indeed his persistence and hard work paid off when eTv's Scandal offered him his first television role. He then featured in his first film, called Nothing for Mahala, which made experts in the industry and fans alike take notice. The actor believes strongly in perseverance and insists that one shouldn't give up on their dreams no matter what. This is the same advice he got from one of his lecturers and it has indeed made him become a successful voice over artist and a theatre and television actor.
Warren adds that he is never comfortable being boxed in one category as an entertainer and always challenges himself to play characters he has never played before. His passion and skill in the art has earned him recognition in countries such as Nigeria and Germany where he was nominated for the African Movie Academy Awards and attended a film festival respectively.
His advice to young people, "Work hard at school and value education. School disciplines you for the opportunities that come your way. We live in a country that doesn't offer a lot of opportunities to young people. The least you can do is to be proactive by empowering yourself as much as you can with the little that you have so that you are always geared up."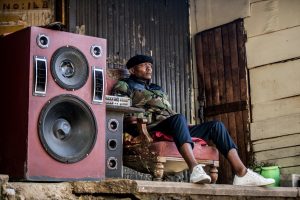 Catch Warren Masemola in the much anticipated Pantsula dance drama series, Tjovitjo on SABC 1 every Sundays at 20:00 PM.
Connect with Warren on:
Twitter: @warrenmasemola
Instagram: @warrenmasemola
Image: Youth Village; SABC1